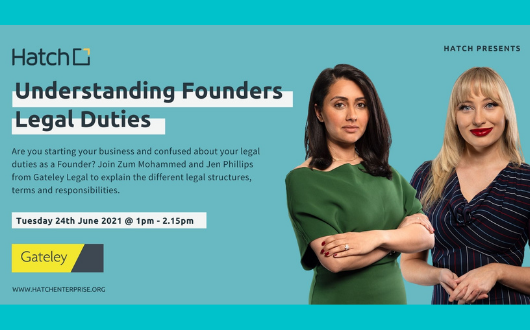 Hatch Presents: Understanding Founders Legal Duties With Gateley
Date

Thursday,24 Jun

Location

Time

01:00 PM

Price
Are you starting your business and confused about your legal duties as a Founder & Director - then this is the workshop for you With Zum Mohammed and Jen Phillips from Gateley Legal
When you start your business you need to be clear about the legal obligations as a Founder. It is your responsibility as a Director to ensure that all your requirements are met. This can be complex and confusing when there are different legal structures and different business entities.
Join Zum Mohammed and Jen Phillips from Gateley Legal to explain the different structures, terms and responsibilities that you have as an entrepreneur and Founder of your business. During this presentation you will have the chance to question the experts about the queries you often need to ask but don't have access to the right legal advice.
What will you learn?
Understand the key legal obligations as a business owner and director
Understand the if you have set your company up with the correct legal structure
Ensure that you are meeting the legal requirements within the correct governance
Who is this for?
Founders and Directors of a small business
Those thinking of starting a business and not sure which legal structure to set up
Business owners in the early stages of their business cycle
What will you leave with?
A clear understanding of your legal obligations as a business owner and what is required of you by UK law