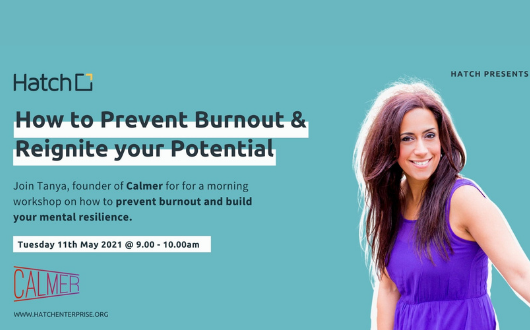 Hatch presents: How to prevent burnout and reignite your potential
Date

Tuesday,11 May

Location

Time

09:00 AM

Price
Join us for a morning workshop on how to prevent burnout and to nurture your mental health and resilience.
Burnout is the result of long-term, unresolved stress. It can affect performance, productivity, and for some of us, even put our business at risk.
We need to stop glamourising overworking ourselves, losing sleep, not eating properly , and staring at our laptop screen into the early hours of the morning. We know that with the right support you are more likely to succeed in your business and in life.
As part of #mentalhealthweek we've partnered with Tania Diggory, founder of This is Calmer for a workshop on how to prevent burnout and reignite your potential.
What will you learn?
Explore an overview of what good and poor mental health looks like, including common signs and symptoms
Understand the difference between stress and burnout, and how to prevent it from escalating
Learn practical techniques for nurturing good mental health and resilience
Who is this for?
Anyone looking to:
Improve their mental health
Learn practical ways to nurture good mental health and resilience
Learn ways to strive for success without burning out
What will you leave with?
A clear understanding of how to avoid burnout as well as practical tips and tools you can start implementing immediately to feel calmer and more resilient.