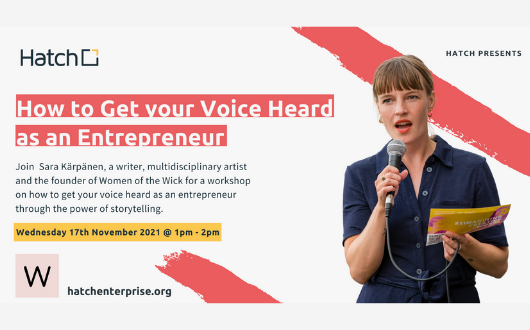 Hatch Presents: How to Get your Voice Heard as an Entrepreneur
Date

Wednesday,17 Nov

Location

Time

01:00 PM

Price
Join us for a workshop on getting your voice heard as an Entrepreneur with our host Sara Kärpänen, founder of Women of the Wick
As entrepreneurs many of us can make the mistake of blending in and being afraid to get our voices heard. However, by doing this, you'll find it increasingly more difficult to get your business the attention it deserves. Instead, you must be different and stand out amongst your competition to grab the attention of your target audience.
Join us for a masterclass on how to get your voice heard as an Entrepreneur with our host Sara Kärpänen, a writer, multidisciplinary artist and the founder of Women of the Wick.
During the workshop Sara will guide you through a few examples and a series of creative writing exercises to use your voice, write your narrative, and find your untold brand story.
You will discover how storytelling can positively impact your journey as an entrepreneur and you'll gain the tools you need to clearly communicate your business offering with your clients, partners and customers.
You will leave the workshop with the confidence to tell your story and elevate your voice to better stand out from your competitors.
Who is this event for:
This workshop is for Entrepreneurs at all stages of their business, who want to learn to have the tools to master the skill of storytelling and use their voice to tell their story and the story of their business.
What will attendees learn:
Why Your Voice Matters.
Why personal storytelling can have a huge impact not only on your business but also on other people's lives.
How to get your message out there?
How to use storytelling as an entrepreneurial tool (examples of press pitches and podcasts)
Writing prompts