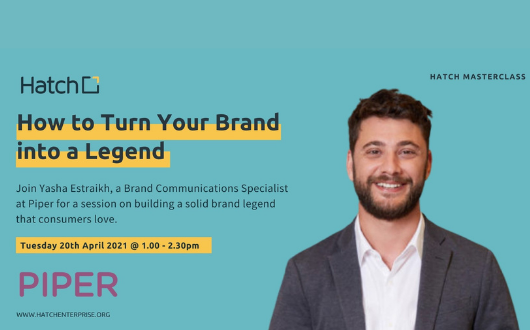 Hatch Masterclass: How to Turn Your Brand into a Legend
Date

Thursday,22 Apr

Location

Time

01:00 PM

Price
In this masterclass you will learn how to build an iconic brand using Piper's - Building Brand Legends Framework.
Have you built your brand but want to turn it into a legend? If so, this masterclass is for you.
Yasha is an investor and brand communications specialist at Piper working with leading founders to help them build great brands that consumers love.
They build brand legends that allow consumers around the world to make the most of their lives, look and feel better, create memorable experiences, and minimise their impact on the environment.
Using Piper's Building Brand Legends Framework, he will be guiding us through the importance of:
Purpose
Product differentiation
Brand storytelling
Tone of voice
Visual identity
Customer-centricity
Community-building in building iconic brands
Yasha will be sharing his years of expert knowledge, tips and advice to successfully build your brand legend. It's not one to be missed!