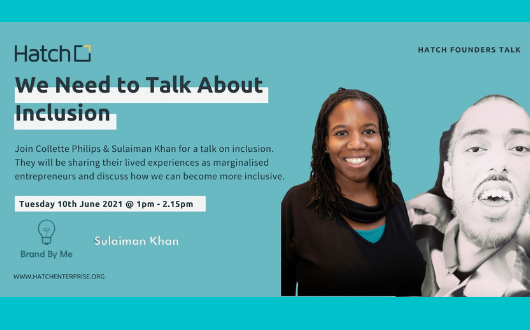 Hatch Founders Talk: We need to talk about inclusion
Date

Thursday,10 Jun

Location

Time

01:00 PM

Price
Join Collette Philips & Sulaiman Khan, two inclusive entrepreneurs for a thought-provoking conversations around inclusion.
Hatch's mission is to build a fairer society by supporting underrepresented founders into business. We are constantly learning and building our values and principles to ensure that we champion equity, inclusion and diversity and are led by those with lived experiences.
In this talk we are bringing together Sulaiman Khan & Collette Philips, two inclusive entrepreneurs from the Hatch community to share their lived experiences, challenge our norms, and get us questioning our internal strategies that we may be building into our business and our start-ups.
As a community of entrepreneurs and creative thinkers let's learn together on how we can become more inclusive so we can deliver social justice and drive long-term change.