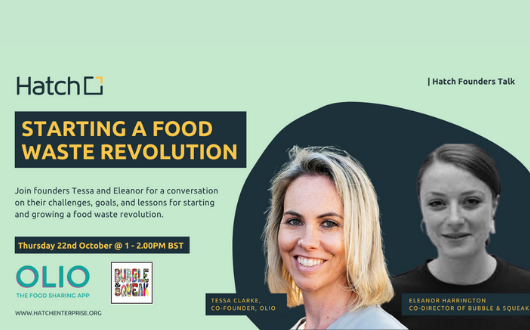 Hatch Founders Talk: Starting a Food Waste Revolution with Tessa & Eleanor
Date

Thursday,22 Oct

Location

Time

01:00 PM

Price
A series highlighting the personal and professional journeys of diverse and impact founders.
As human beings, we love to learn from one another and connect through storytelling so Hatch have produced a series of talks where a founder, who is currently participating on one of their programmes, talks to their mentor or role model about their trials and tribulations of starting a business, during a live online conversation.
The Hatch founder will participate in a dynamic conversation with a well-established founder who is operating in their sector, talking about their obstacles and hurdles that they are encountering whilst growing their new business. Their role model will guide and offer advice and wisdom and share stories on how they started and grew their business.
This month they have founders Eleanor and Tessa. Eleanor recently participated on their Impact Accelerator to help her scale the impact of her impact business Bubble & Squeak, a kids run social enterprise tackling food waste, and Tessa is the co-founder of Olio, the #1free sharing app.
Come and join in the conversation to get some inspiration on thinking big, growing an impact business, and how to fight challenges on the way from those who have been there.