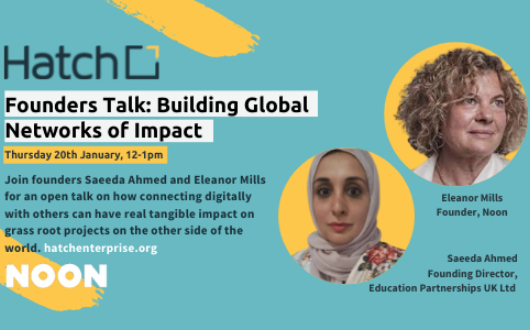 Hatch Founders Talk: Building Global Networks of Impact
Date

Thursday,20 Jan

Location

Time

12:00 PM

Price
Join founders Saeeda Ahmed and Eleanor Mills for a talk on how connecting digitally with others in the world can have real tangible impact.
In a world that's ever more digital, why is it important for UK founders and businesses to build and nurture those international networks and play a role in building businesses that are more compassionate?
Many founders run businesses that have some kind of social impact or purpose, and there's a huge amount that can be learnt and shared with individuals outside of the UK. Improving skills and building your knowledge base is good for economies, people and the environment, in turn playing a key role in having businesses that are truly sustainable and impactful.
We kick off the first in an exciting new series of Founder Talks for 2022, hearing from Saeeda Ahmed, who's the founding director of Education Partnerships UK Ltd (EPUK), and has more than 20 years of experience building and working with grassroots organisations internationally. A leader in her field, her work has helped drive change across multiple issues on a global stage, from poverty and education to healthcare and gender issues.
Saeeda will be talking to Eleanor Mills, journalist and Founder of Noon on why and how you can build bridges between communities and networks to create fundamental change, plus the role you can play in projects that help in the transfer of power that support the economy and society.
This promises to be another thought provoking conversation between two remarkable female entrepreneurs, so if you run or lead a business that has a social mission of any kind, this is for you.