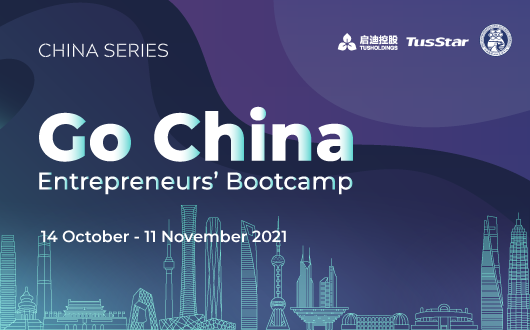 Go China Entrepreneurs' Bootcamp
Date

Thursday,14 Oct

Location

Time

02:00 PM

Price
Sharpen strategies, meet potential partners, and understand what works in China with TusPark Global Network.
What is Go China Entrepreneurs' Bootcamp?
TusPark UK supports UK companies in their expansion to China through soft-landing services and practical work. Go China Entrepreneurs' Bootcamp is a free, virtual programme to prepare international companies for practical business expansion work in China and support overseas entrepreneurs to start a business in China.
This 5-week programme includes a high-quality series of workshops, navigating issues ranging from the demographic strengths of different regions of China, the best practices for conducting business in China, and analysis of specific industry sectors. 8-10 companies will be selected to pitch and network with potential investors in the last week. At the conclusion of the programme, TusPark will help with next-steps and follow-ups, supporting the participants with connections to their interested TusPark base and city ecosystem through the global network.
Who is this programme for?
Companies looking to set up a business in China
Companies looking to access the Chinese market
Companies looking for a potential business partner in China
Small or medium enterprises looking to drive business strategies forward in China
Overseas entrepreneurs planning to start a business in China
What are the benefits?
Action-planning webinars
Premium policy briefs and industry insights
Mentoring and coaching
Growing your network
Pitching with potential investors
Getting support from TusPark Global Network
5-Week Virtual Programme
WEEK 1: Taking Advantage of Regional Strengths Across China
14.00 – 15.30 BST, Thursday, 14 October 2021
China is a vast, diverse, and complex market. Profound differences can exist from region to region, from industry to industry. This week we will consider the culture, transportation, talents, market size and preferences of the major and minor economic regions in China. We will also identify the strategic industries and leading enterprises of each region. After the workshop, you will find out the key demographic factors to consider when deciding where to locate.
*Workshops will be delivered via Zoom. Most sessions will be held in English. Simultaneous interpretation to English will be provided for the sessions conducted in Mandarin.
How to apply?
Sign up on Eventbrite to join the webinars and contact us at info@tuspark.co.uk to get extra benefits.
You can register to join the full programme or any one or more workshops. Participants who complete the full programme will receive a Certificate of Completion.