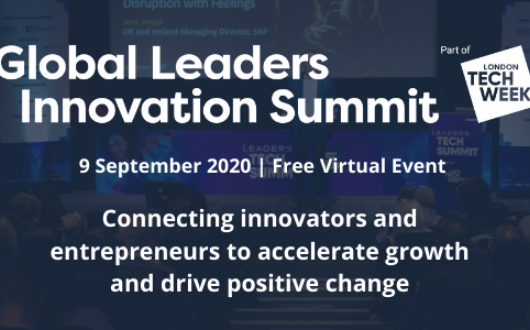 Global Leaders Innovation Summit
Date

Wednesday,09 Sep

Location

Time

04:30 AM

Price
Connecting innovators and entrepreneurs to accelerate growth and drive positive change
Bringing leaders together to accelerate innovation, share best practise and drive positive change, Tech Week's Global Leaders Innovation Summit unites leaders from both large enterprises and scaleups to harness complimentary skills and knowledge to unlock growth.
Through this year of disruption and change, the power of technology to drive new opportunities and empower global communities has been brought to the forefront. As the world rebuilds, the Global Leaders Innovation Summit will explore how the tech ecosystem is working together to enable new futures where tech is for everyone and impactful innovation thrives.
This Summit will bring together a leadership audience and interactive formats to collide the best in global scaleup innovation with industry giants to create a disruptive environment ripe for collaboration and exploration.This dynamic event for senior leaders will offer a 360 view on the innovation landscape, leveraging expertise from across the global ecosystem and unlocking new opportunities.