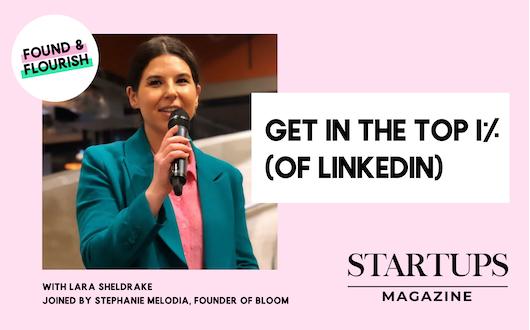 Get in the Top 1% (of LinkedIn)
Date

Wednesday,27 May

Location

Time

01:00 PM

Price
Found & Flourish presents Get in the Top 1% (of LinkedIn) with Stephanie Melodia, founder of startup marketing agency, Bloom. Stephanie is in the Top 1% of both her industry and network on the world's #1 professional networking site, LinkedIn. On average, at least one of her posts goes trending once a month, and she has helped numerous entrepreneurs and startup teams to do the same for their own profiles, with effective and immediately visible results. People often feel lost of at a dead end when it comes to leveraging LinkedIn for their personal brand or own business. During this workshop, Stephanie will lift the curtain on how to optimise your LinkedIn activity, including sprucing up your profile, content ideas, tips & tricks plus free tools to help you along the way.
Stephanie will cover:
Optimising your profile for utmost success
Developing a content plan that actually reaps rewards
Provide inspiration for new content to regularly post on LinkedIn
How to implement a successful engagement rhythm
Plus more tips & tricks!
Workshop goals:
By the end of the workshop you will have learnt lots of practical tips and easily actionable advice you can go away and implement immediately. You will be feeling more confident and inspired to do more on the professional platform, and excited to start attracting new clients instead of chasing after them.
Is this workshop for me?
Know that LinkedIn is a relevant channel for your business but aren't seeing any results from the platform, don't know where to start, or simply lacking inspiration on what to do next? There is so much opportunity on the world's #1 professional networking site, so this workshop is to help you get a slice of that pie!
What to expect on the day:
1pm: Introduction
1.10pm: Profile optimisation
1.30pm: Content & activity plan
1.50pm: Q&A
Because running a business is tough business. We're right here with you.
Found & Flourish
x
Please note: We have a number of pay-as-you-can tickets for people on low incomes, to find out more please get in touch via events@foundflourish.co.uk
About your trainer
Stephanie Melodia
Stephanie is the founder of startup marketing agency, Bloom, which helps entrepreneurs bring their business vision to life as they scale with practical marketing and beautiful creativity. Accolades include work featured in The Independent, Startups Magazine, and Startups.co.uk.
True to the mission of supporting entrepreneurs, Stephanie is also a scout for Ada Ventures and hosts founder podcast, Time to Bloom (available on Spotify and Apple Podcasts).
Prior to setting up Bloom, Stephanie led the UK marketing for Top 10 global app developer, Meitu, where she partnered with 10+ top-tier cosmetics brands including Benefit Cosmetics, Givenchy, and Dior.
Before going in-house with the leading beautytech firm, Stephanie spent the best part of a decade working agency-side, across various clients and channels to deliver exciting and effective TTL marketing campaigns.
Stephanie is passionate about creativity and practical marketing implementation to help ambitious entrepreneurs succeed, and build the dream life they work so hard for.
About your host
Lara Sheldrake
Lara is the Founder of Found & Flourish, a female led organisation empowering women in business through community, services and events. With a background in advertising and social media strategy, Lara has over ten years experience working with early stage startups to household brands.
Lara hopes by putting on events such as this one she can support other women in business to launch, grow and scale impactful businesses.
About the event sponsor
Startups Magazine
Startups Magazine is a bi-monthly print and digital publication created to champion technology startups with all aspects of their entrepreneurial journeys - helping them connect the dots from funding to founder wellbeing. Startups Magazine launched April 2018, and since then has built a loyal and talented following ranging from tech startups, engineers, investors, growth hackers, accelerators, marketing whizzes, aspiring innovators and many more. Startups Magazine presents its debut digital platform where subscribers can read gold-dust content from experts, access the digital version of previous issues, receive upcoming issues, be the first to be invited to Startups Magazine events and have the opportunity to have their own startup featured editorially.
Digital subscribers also have access to a 'User Section'​ of the website where they can bookmark articles, follow series and be updated of new articles by their favourite journalists and experts.
It doesn't stop there. Alongside a wealth of practical information for tech startups, the Startups Magazine website also recommends industry events worth attending and podcasts worth following.
For the more nostalgic among our readers, we offer Startups Magazine in print form. Distributed at over 25 spaces in London alone, Startups Magazine is free for public spaces to distribute to their members and can be received by individuals at only the cost of P&P.
But above all this, what makes Startups Magazine its magical self is its fierce community which has supported the mission of the publication from the very beginning.
FAQs
Is your event for women only?
We welcome anyone who identifies as a woman or a non-binary woman. We're on a mission to close the opportunity gap for female founders, so if Found & Flourish is a fit for how you identify then we'd love to have you join us.
What's the refund policy?
You can receive a full refund up to 7 days before the event.