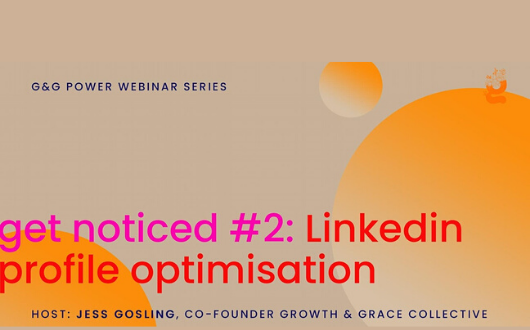 Get Noticed #2: LinkedIn Profile Optimisation
Host:
Growth & Grace Collective
Date

Friday,12 Jun

Location

Time

10:00 AM

Price
Back for a second week running, we are hosting this second session of LinkedIn Optimisation to also raise money to support Black Lives Matter organisations.
A lot of our community is based internationally, and as such we wanted to offer a digital mechanism to support them. We have decided to host a series of virtual webinars on a variety of thematic subjects as a part of our new community-focused events series online: Power Webinars.
Goal of the Power Webinars Series
The Power Webinar is seeking to do exactly what it says in the name, give you the power (and confidence) to engage with a subject at hand. We seek to support our community to access new insights, content and up-skill themselves at all levels. All of our webinar sessions have either a nominal or no-fee attached, to ensure everyone can access this resource. All sessions are conducted in a safe and inclusive environment, and will be anchored on a key topic shared with the guest for that session.
Get Noticed #2: LinkedIn Profile Optimisation
This month has been about supporting professionals with soft skills. We wanted to go that extra mile and have a condensed one-stop-shop to support those trying to get hired. Get Noticed is a unique multi-part series focused on CV building, LinkedIn Optimisation, Personal Branding and Photography + more.
#2 LinkedIn Optimisation
So what is in a LinkedIn profile you may ask? Well, a lot of things. In the digital world, you are doing yourself a disservice if you don't show up, as it can make all the difference. A solid profile can serve as a combination of a CV, brochure and bio on who you are and why you matter.
​In this workshop, you will gain practical advice on how to optimise your profile from being a digital resume to a strong landing page for your brand. You will learn how to enhance all parts of your profile, even ones you didn't think were important!
This session will cover:
insights into a compelling summary
best practices for building credibility
understanding how to boost visibility
how to network online and utilise your network
finding your communication style and networking
how to build an engaging presence
how position yourself as an expert within your niche
content posting 101
Whether you're a LinkedIn veteran or yet to sign up, you will get practical advice that you can start using immediately to succeed on LinkedIn this year.
Supporting Black Lives Matter
We will be donating the majority of the proceeds between two core charities/organisations we'd like to support:
Black Lives Matter which began in 2013 following the death of Trayvon Martin, and the acquittal of the white man who fatally shot him, George Zimmerman. It operates in the US, Canada and the UK, organising, creating petitions, intervening on violence on Black communities and "creating space for Black imagination and innovation, and centering Black joy".
Stephen Lawrence Charitable Trust, founded following the murder of Stephen Lawrence in 1993 (a racist attack), the Stephen Lawrence Charitable Trust helps young people from disadvantaged backgrounds between the ages of 13 and 30 to succeed in their chosen career.
Our workshop host
Jess Gosling
By day, Jess works within the UK Government in cultural diplomacy matters, by night she co-leads our network. She is a serial multi-hyphenate seeking to bridge the gap between culture, diplomacy and innovation.
Hosting an eclectic mix of experiences, with previously working in the start-up industry in the MENA/Balkans, teaching English/Korean for ten years, running a digital platform with a readership of 6-million as Deputy Editor-In-Chief out of Hong Kong, and be a part of a high achieving team in two United Nations deployments. Through this myriad of experience, for the past five years she has been coaching and hosting sessions on personal branding as a multi-hyphenate in the digital age.
She is a public speaker on all things interdisciplinary, soft skills, digital presence/branding and professional development. She is the host of bi-monthly segment Culture, Diplomacy, Innovation and will start a PhD in soft power this autumn.
What is planned?
Introduction & presentation
Open Q&A to our community.
Please note that all webinars will last an hour and a video link will be sent 24 hours before starting time.
Organised by:
Growth & Grace Collective (G&G) is a gender neutral network seeking to champion one another in every fabric of our community.
G&G aims to provide our network with opportunities to lift up one another and put the ladder across. We offer the opportunity to collaborate in all of our offerings.
Email : hello@growthandgracecollective.com
Things to note:
This webinar will be recorded and we will be sharing it on our social channels. We will also be sharing core insights after for all those who attend/or cannot.
By signing up, you are agreeing to be added to the wider mailing list (please drop us a note if you'd like not to be).
The event link will be shared 24 hours before the event.