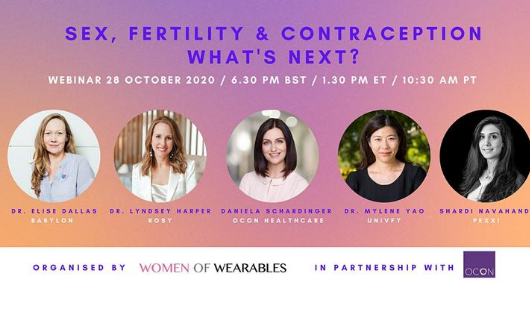 FREE webinar - Sex, Fertility & Contraception: What's Next?
Date

Wednesday,28 Oct

Location

Time

06:30 PM

Price
Join Women of Wearables for a free webinar in October where we will discuss Sex, Fertility & Contraception, and the rise of new products in this space!
For our October webinar, we brought together five experts to discuss what's next for Sex, Fertility & Contraception. We will cover a wide range of topics, including:
1) The importance of opening a conversation about Sex, Fertility & Contraception and breaking taboos;
2) Fundraising and getting investment in sextech and femtech space;
3) Innovative products and solutions that are disrupting female health tech space;
4) How to tailor your marketing strategy when promoting sextech and female health products and services;
5) How to launch a product in a highly regulated environment such as medtech;
6) How to include more men in conversations around sex, fertility and contraception and more.
Join us virtually and make sure to prepare your questions for our panelists! Those who have registered for the webinar will receive a link for a video call two days prior to the event.