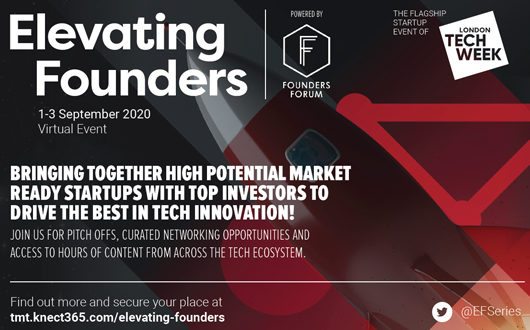 Elevating Founders Europe
Date

Tuesday,01 Sep

Location

Time

05:00 AM

Price
As the flagship startup event of London Tech Week, Elevating Founders enables high potential Seed and Series A tech startups exclusive access to curated investors and the enterprise marketplace at TechXLR8, where tech is transforming business.
Elevating Founders is London Tech Week's dedicated programme for startups and scaleups powered by Founders Forum, a global network of the world's most inspirational founders, global leaders, senior investors and disruptive rising stars.
This event brings together a highly curated cohort of startups and scaleups with world-changing potential with investors, tech giants and the media to support and transform the future of Europe's tech ecosystem.
Join us at Elevating Founders Europe to witness the next disruptors of the tech ecosystem go head to head in the pitch offs, showcase their products or service on the virtual show floor and shape the future of tech!