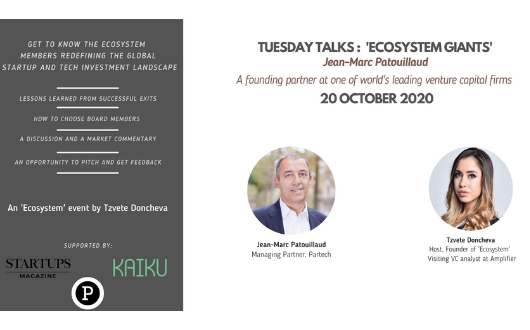 "Ecosystem Giants" with Jean-Marc Patouillaud
Host:
Tzvete Doncheva, https://ecosystem.substack.com/
Date

Tuesday,20 Oct

Location

Time

05:00 PM

Price
The 'Ecosystem Giants' Talks highlight the ecosystem members who redefine the tech investment landscape. They are sessions of practical, actionable advice to entrepreneurs, operators and junior VCs where some of the most seasoned VC investors share personal and professional insights and their view of the global market.
The next #EcosystemGiants session is on Tuesday, 20 October at 5pm BST, where Jean-Marc Patouillaud, Managing Partner at leading venture capital firm Partech joins Tzvete Doncheva for a conversation on venture investing, evaluating global markets, products and teams and building a great startup board. Jean-Marc is one of the two founding partners of Partech Partners that he joined in 1996. He currently serves on the board of Dayuse, Happytal, Lifen, Sigfox and Privitar. He has a long track record of successful exits including IPOs, in France, Israel, UK and the USA.