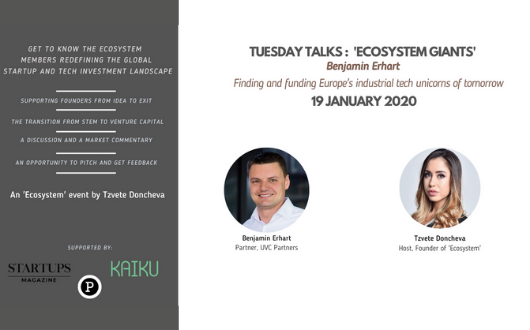 "Ecosystem Giants" with Benjamin Erhart
Host:
Tzvete Doncheva, https://ecosystem.substack.com/
Date

Tuesday,19 Jan

Location

Time

05:00 PM

Price
The #EcosystemGiants talks highlight the ecosystem members who redefine the tech investment landscape. Each session creates an opportunity for a knowledge exchange between founders and investors, aiming to democratize access to the venture industry for entrepreneurs and junior VCs. In a fireside chat format, the speakers share personal/professional insights and offer their views on the global market.
The next #EcosystemGiants session is on Tuesday, 19 January at 5pm GMT(6pm CET), where Benjamin Erhart (Partner, UVC Partners) will join Tzvete Doncheva for a conversation about finding and funding the industrial tech moonshots of tomorrow and lessons learned supporting founders from idea to exit.