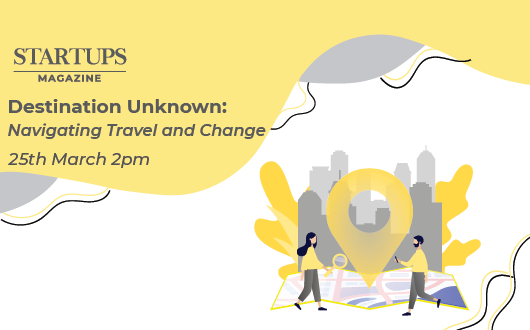 Destination Unknown: Navigating Travel and Change
Date

Thursday,25 Mar

Location

Time

02:00 PM

Price
Get lost in an afternoon of innovation as we talk about how startups can navigate the challenges in their entrepreneurial journeys
This will be a VIRTUAL event, held on Zoom with a mix of polls and interactions via our social media channels in the build up to!
instagram: @startupsmagazine
twitter: @TheStartupsMag
About this event
Celebrating the launch of Issue 18: Marketing, Branding & Traveltech we are bringing together a fantastic lineup to kick off our launch and send out the issues with a bang!
You will get the chance to:
👉 Hear from our incredible keynote, about how you can navigate the unknown, and lead your business to new heights.
👉 Listen to our panel of travel tech startups. A rollercoaster for the past year, travel startups are beginning to shape the future of travel.
👉 24-hour exclusivity for the latest issue: Marketing, Branding & Traveltech
Agenda
2pm: Arrival and Introductions 👋
2.05pm: Keynote with Sallee Poinsette-Nash
2.35pm: Panel of Travel Tech Startups, moderated by Anna Flockett, Editor of Startups Magazine
3.00pm: Goodbyes️👋