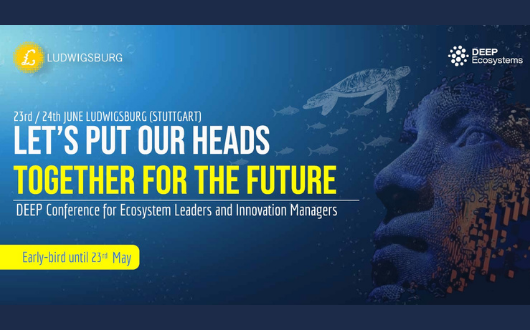 DEEP Startup Ecosystem Conference
Date

Thursday,23 Jun

Location

Time

09:30 AM

Price

Event Price

€349 (€279 until May 23)
The leading strategy forum for innovation leaders is back – DEEP Conference is happening on 23rd and 24th June in Ludwigsburg (Stuttgart).
The DEEP Startup Ecosystem Conference is an exclusive gathering of 100 innovation managers and innovation ecosystem leaders from over 15 countries to accelerate the growth of a pan-European innovation space.
 
Join us for international connections, deep insights on innovation trends and opportunities to raise funds for your ecosystem.
 
Together with our partners at Robert Bosch GmbH, Porsche Digital, MANN+HUMMEL and the City of Ludwigsburg we invite you to take the chance to meet the hidden champions in the high-tech heart of Germany.
See our website for the detailed program that will cover:





Latest data and trends from our research team
Launch of the 2022 Startup Heatmap Europe Report

4x DEEP Dive intelligence briefs to take home
Facetime with top leaders of the industry
Ertan Can – the revolutionary mind behind micro-investing fund Multiple Capital

Heike Langner, the leader of Robert Bosch GmbH's outside in innovation

Plamen Kiradjiev, former global CTO for IoT at IBM, today with German Edge Cloud
Networking, networking, networking
Tour around the world session with ecosystems from Estonia to Portugal

Small scale working groups to have open and honest discussions

Wine tasting on the 2nd day to wind off and make friends