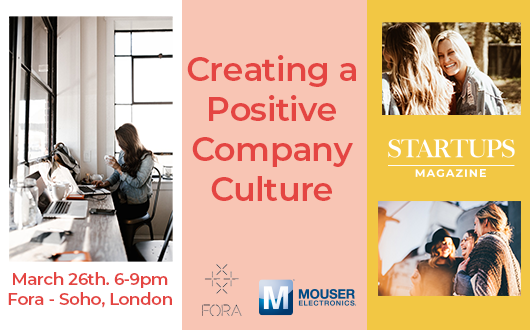 Creating a Positive Company Culture
Date

Thursday,26 Mar

Location

Fora - Soho 33 Broadwick Street London W1F 0DQ

Time

06:00 PM

Price
Take a deep dive into positive company culture with Startups Magazine, Fora & Mouser Electronics.
It can be easy to get bogged down in day-to-day tasks, but tonight we are taking pause to reflect on how we make our places of work a more enjoyable and productive place to be. Join Startups Magazine, Fora & Mouser Electronics as we learn how to find the positivity within your company culture & workspace and what you can do to bring it out in your colleagues & in yourself.
Please purchase your tickets as soon as possible to avoid disappointment - as they have a tendency to sell out! 
Who is this workshop created for?
Entrepreneurs, startups and freelancers looking to improve your day-to-day worklife to be more productive and inclusive.
What can you expect?
Attendees can expect to ease into the evening with nibbles, canapes & conversation
We will kick things off with a pow-wow from our speaker who knows all about the importance of a inclusion and diversity in company culture followed by a panel of experts where we dig into the areas startups struggle with:
⭐️ First hires
⭐️ HR bear-traps
⭐️ Company culture
⭐️ Leadership in startups
⭐️ Choosing a workspace
⭐️ Startup HR
Expect to leave with a new vision and positive outlook on how to improve your workplace, the latest issue of Startups Magazine and some freebies from our sponsor Mouser!
Agenda
6pm: Arrival, drinks & nibbles🥂
6.45pm: Mindfulness session to focus ourselves , from OpenMind Wellbeing
7.00pm: Prompt start to our first speaker/workshop.
7.30pm: Our panel of workplace experts
8.15pm: Workshop ends & relaxed conversation and drinks begins
9pm: Goodbyes 👋