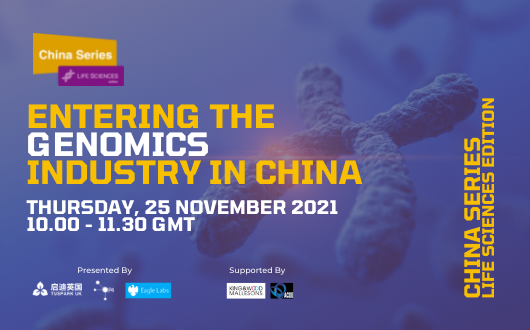 China Series: Entering the Genomics Industry in China
Date

Thursday,25 Nov

Location

Time

10:00 AM

Price
TusPark supports Life Science companies in the UK enter the Chinese market through soft-landing and business partner networking.
We proudly co-host this workshop with P4 Precision Accelerator and the Wellcome Genome Campus.
In this workshop, we cover an exciting area of the Chinese Life Sciences industry: Genomics. As always, we will bring in speakers from significant Chinese companies who are working in this sector and are open to collaborations with UK partners. Our speakers include Holly White from Rouse, who will speak on the important subject of Data Privacy Laws in China (which will be highly relevant for genomics and digital health companies who work with data). Other speakers from China are Novogene, one of China's largest genomics companies, and Jabrehoo, a genomics company based in Beijing. Congenica, from the UK, will also share about itself and its work in the Chinese market.
The objective of these talks is for TusPark UK to facilitate health and life science companies with accessing the Chinese market: through education, knowledge sharing, and eventually, partner finding and running a pilot in China with first customers.
Programme:
10:00 – 10:05 Welcome by the Hosts and Supporting Organisations
Colin Tan, Director of Operations, TusPark Newcastle Eagle Lab
Nathan McNally, Founder & COO & Programme Director, P4 Precision Accelerator
Joanna Mills, Head of Entrepreneurship, Wellcome Genome Campus
10:05 – 10:25 Data Privacy Laws in China and How It Impacts Your Business Considerations
Holly White, Consultant, Rouse
10:25 – 10:40 Chinese industry partner 1: Novogene
Tingting Zhou, General Manager of Europe, Novogene
10:40 – 10:55 Chinese industry partner 2: Jabrehoo
10:55 – 11:05 Questions and Answers for the Chinese Speakers
11:05 – 11:20 Congenica: Key Learnings from working in China
David Atkins, CEO, Congenica
11:20 – 11:25 Questions and Answers for the UK Speakers
11:25 – 11:30 Closing Words and Thank You's