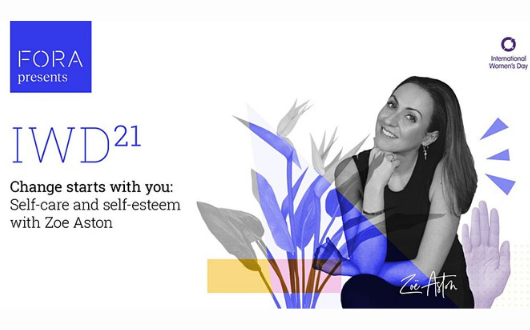 Change starts with you: Self-care and self-esteem with Zoe Aston
Date

Thursday,04 Mar

Location

Time

01:00 PM

Price
Equality and effecting real change start with empowering yourself. Explore how to actively work on your confidence and self-esteem.
How can we possibly perform our best and demand greater equality if we don't put ourselves first and take care of our own mental health?
Zoë Aston, therapist, mental health consultant and author, talks us through looking after our mental health and finding balance. During this workshop, you'll explore how to actively work on self-esteem and self-care to maintain a healthy relationship with yourself and others. Self-care has become a mental health mainstay for many of us over the past few years, helping countless people to concentrate on themselves in a very busy and unpredictable world. Social networking platforms have allowed the self-care movement to flourish. However, what is often not explained fully is the importance of internal self-care and why it is so important for your mental health.
When we run the risk of falling into addictive, negative patterns, what we really need is true connective healing. And that's what we will learn how to achieve in this session.
Agenda and learning outcomes:
Discover how to create and develop a personalised internal self-care strategy that contributes to positive change and equality.
Take away specific and targeted mental health workouts which are easy to practice on a weekly and daily basis.
Understand the direct and indirect consequences of the COVID-19 pandemic on our relationships with ourselves and learn how to regain balance.
Benefits of attending the session:
Understand how and why self-care impacts self-esteem and confidence and, in turn, greater equality in society.
Meet like-mind people who are interested in the topic of mental health.
Take away simple and practical steps to create balance when you feel you need – and deserve - an important boost!