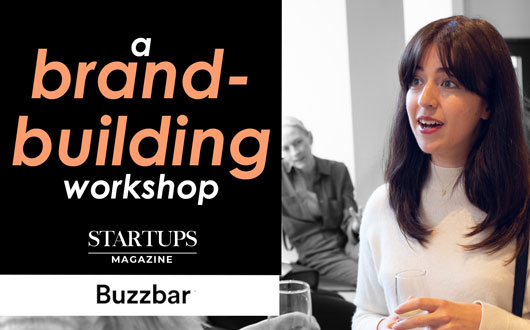 A BRAND-BUILDING WORKSHOP: Startups Magazine
Date

Thursday,30 Jan

Location

Buzzbar, 32 Shoreditch High Street, London, E1 6PG

Time

06:00 PM

Price
Powered by Buzzbar, Startups Magazine presents A Brand-Building Workshop for startups, entrepreneurs and freelancers.
Amidst the inevitable avalanche of #NewYearNewMe tweets and post-Christmas-feasting-diet-plan-promises, there is something to be said about a fresh start, at looking at the year ahead and reflecting on the year just gone, to plan goals and track progress.
For most, the new calendar year is the benchmark for financial and sales targets, event scheduling and marketing plans - adding rhyme and reason to what can quickly turn into a chaotic year with unpredictable twists and turns thrown into the mix.
From new partnerships, brand evolution, product offering expansions and a thousand other developments, it isn't possible to plan everything, but from a marketing and branding perspective, it is possible to be prepared and to have a structure in place to support and promote your brand story in the best way through the best channels - through to the right people ????.
Workshop objectives ????
'Marketing', 'branding' and 'PR' are broad-sweeping terms covering a multitude of areas - in this Brand-Building Workshop we will specifically be looking at the following areas with experts from Buzzbar, Sifted and Mac&Moore:
Sifted:
How to create a press release and how to get it published
The benefits of PR and what it entails
Mac&Moore:
How well do you know your target audience?
Creating customer personas (and why you should do this)
Content marketing, strategy and planning
Buzzbar:
A digital presence audit: deciphering which channels speak best to your audience, and how to curate content that gets engagement
What is 'brand' and how can you build one that speaks to your audience?
Branding Kit: what is it, why do you need it and what's in it?
Who is this workshop created for?
Entrepreneurs, startups and freelancers - whether aspiring, green or established - looking to level up their marketing, PR and branding.
What can I expect? (e.g. the crack, the low-down)
Attendees can look forward to complimentary nibbles and drinks before settling into the workshop
The workshop will be structured in a round-robin style, with spokespeople from each section (marketing, PR & branding) delivering useful tips and advice
Relaxed conversation post-workshop with the opportunity to connect with fellow entrepreneurs
Attendees can expect to leave the event with a completed 'idea-workbook' applying the workshop's learnings to their specific business mode
What should I bring?
Please bring your laptop as we will be sending out an 'idea-workbook' to every attendee to work through during the event on the day. This workshop is designed to give attendees tangible and practical advice which they can apply to their specific business models right there in the moment. If paper and pen is preferred printed copies will be available on the evening.
Agenda
6pm: Arrival & drinks ????
6.30pm: Prompt start to the workshop
8.30pm: Workshop ends & relaxed conversation and drinks begins
9pm: Goodbyes ????