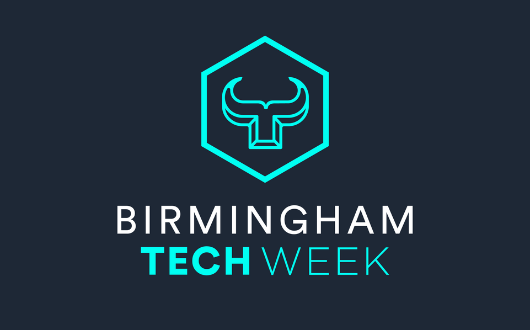 Birmingham Tech Week 2022
Date

Monday,10 Oct

Location

Various venues across Birmingham - Albert Schloss, STEAMhouse, Millennium Point, East Side Rooms, The Exchange

Time

08:00 AM

Price

Event Price

various sponsorship packages available, attendance is free
Birmingham Tech Week is the UK's largest regional tech festival and conference with over 5,000 people attending. Events will be taking place across the entire West Midlands covering a variety of important and innovative topics.
Birmingham is the youngest city in Europe yet it produces the most inventions per year, with nearly 65% registered from the across the region. Not to mention the West Midlands has nearly 6,000 tech companies employing a diverse workforce of over 38,000 people – our region is home to some serious talent.
Birmingham Tech Week is the UK's largest regional tech event - over 5,000 people attend over 100 events - highlighting a number of innovative topics. Last year we had over 250k social media impressions and 1 million views through our national media campaign.
Speakers from previous years are from some of the world's best tech brands: Microsoft, Wayra, Amazon, Uber, IBM and Google. Birmingham Tech Week is run by Birmingham Tech CIC, a not-for-profit organisation (community interest company limited by guarantee), ensuring all money raised through sponsorship goes towards helping build the West Midlands tech ecosystem.
In the last two years we have:
Created a ScaleUp Accelerator to help local tech businesses achieve more (this is part-funded and run in collaboration with the WMCA) - raised over £2.5m
Engaged 1,000's of young people through the Inspire Series - an initiative to encourage 16 - 24 year olds to embark on a career in tech/digital
Our sponsors and partners help make Birmingham a prominent Tech Hub and somewhere technology companies of all shapes and sizes are proud to call home.