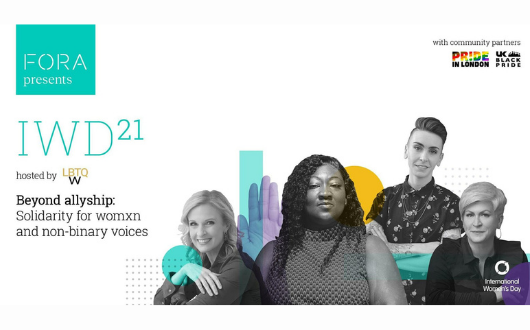 Beyond allyship: Solidarity for womxn and non-binary voices
Date

Wednesday,03 Mar

Location

Time

06:30 PM

Price
Join us as we go beyond allyship to explore true solidarity amongst and for womxn and non-binary voices.
This International Womxn's Day panel, hosted by Fora in partnership with LBTQWomen, will highlight multiple womxn and non-binary voices. We will hear about their journeys towards embracing their identities and leveraging their voices as leaders and organisers, and their work to bring communities together. We'll explore the intersections of race, ethnicity, cultural identity and queerness and we'll ask:
How is vocabulary shifting?
What is the impact of bias and micro-aggressions?
What is our vision for a more inclusive way to celebrate International Womxn's Day?
What can be accomplished in 2021 that was never before possible?
How can we centre the most underrepresented and marginalised in our communities?
Speakers
Jennifer Brown (Host), Jennifer Brown Consulting
Lady Phyll, Founding Executive Director of UK Black Pride and Executive Director of Kaleidoscope Trust
Erin Uritus, CEO of Out & Equal
CV Viverito, Associate Director of Global Initiatives at Out & Equal
Agenda and learning outcomes:
Be inspired by womxn and non-binary people as they share their world-shaping wisdom and stories.
Explore the meaning of the intersectional term 'womxn' and why we use it.
Recognise the difference between visible and invisible diversity, and the importance of an open dialogue to build trust.
Realise the impact of macro and micro-aggressions and how to challenge them when we hear and see them.
Understand 'intersectionality' to combat the interwoven prejudices faced by certain communities.
Benefits of attending this session:
Take a frank look at the obstacles facing true solidarity and equality and discuss solutions for change.
Understand shifting ideas and discuss what can be done to keep moving forward.
Come away with the knowledge and the confidence to challenge discrimination and effect real change.