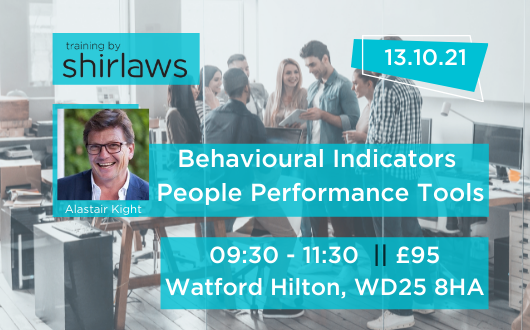 Behavioural Indicators - People Performance Tools
Host:
Training by Shirlaws
Date

Wednesday,13 Oct

Location

Watford Hilton, Elton Way, Watford, England, WD25 8HA

Time

09:30 AM

Price
Great teams are made, not born! Learn how to analyse results, understand the practical applications and experience Compass in action.
Compass reveals vital information about team dynamics, communication styles and develops self-awareness, providing the information you need to immediately implement positive changes that will accelerate business performance and growth.
Armed with your behavioural insights gleaned from bespoke reports, you'll learn how:
This suite of people performance tools highlights key business behaviours
Compass can be used to develop your teams and your business.
Alastair, an experienced Entrepreneur, Business Coach and Compass expert, will challenge you to dissect how teams work together and demonstrate a real-life dashboard which will immediately reveal where change can improve productivity, communication and culture.
This session includes a Compass 4 pack which includes online access to:
Think Feel Know
Entrepreneur Leader Manager
Pace
Risk
A bespoke report for each indicator
Resources to help you understand and adapt your business behaviours
Following the course, Alastair is offering a free 20 minute online 1-2-1 to discuss your individual profile and how you can leverage this knowledge to improve your business.
Shake your people out of their silos! As a team you can solve bigger, more complex challenges with less pain, more speed, and more success than you can alone.
Suitable for business owners/founders, entrepreneurs, CEOs, MDs and NEDs.