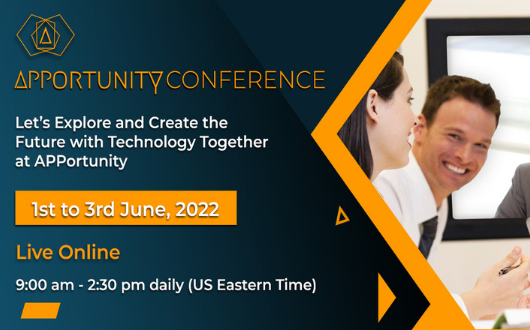 APPortunity Global Online Conference 2022
Date

Wednesday,01 Jun

Location

Time

09:00 AM

Price

Event Price

$149.00 – $499.00
APPortunity 2022 brings together leading tech innovators and pioneers from across the business, government, NGOs, the voluntary sector, and common interest groups. We will bring you stories of their successes and failures, vision and mission, and reveal insights you need to embrace COHERENCE to address four dimensions of demand…. right now. No one can afford to be a bystander, so will you join us or risk falling behind?
APPORTUNITY 2022 GLOBAL CONFERENCE
THE MOST AMBITIOUS TECH EVENT IN A GENERATION
Owned and produced by Requisite Agility, APPortunity features every aspect of the tech sector. APPortunity aims to be the most influential tech event in the world by being the most demand-driven tech event in the world — the battleground for breakthrough technologies with proven markets.
The goal of APPortunity is to unite the world's most influential leaders so that as technology transforms the world it creates future of COHERENT business.
Our ability to harness and disseminate new technologies will help us to attain and reinforce a dynamic between innovation and sustainable development, pursued in harmony simultaneously.
We also want to go further and inspire the sustainable development of the industry we serve. Provide a unified blueprint now and into the future, how must we act to end poverty, improve health and education, reduce inequality, spur economic growth, tackle climate change and preserve nature.