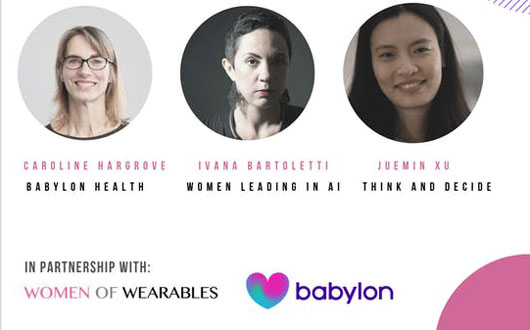 AI in Healthcare
Host:
Women of Wearables & Babylon Health
Date

Wednesday,23 Oct

Location

Babylon Health, 60 Sloane Avenue, London, SW3 3DD

Time

06:30 PM

Price
Join Women of Wearables for an evening of learning, sharing, connecting and discussion on how Ai is revolutionising healthcare and our every day lives.
Artificial Intelligence is already a part of our daily lives. More than we even realise it. We use Siri or Alexa to help us with the everyday tasks, we rely on algorithms to get tailored recommendations on Netflix, or in our email inbox to filter our emails.
AI is already here and is changing our lives. But, one big area AI is transforming and has a potential to do even more so is - healthcare.
Babylon Health is already pioneering AI to make healthcare more accessible and affordable. But, can AI really replace human care? In order to raise awareness about some of the challenges the healthcare industry is facing today and how AI could help overcome them, Women of Wearables are bringing together three health tech experts who will be discussing current innovations in this space, possible implications of AI in future healthcare and finding the answer to the question: will AI allow doctors to be more human?