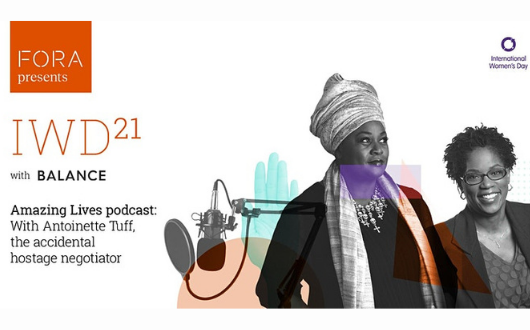 The accidental hostage negotiator | Amazing Lives podcast
Date

Monday,08 Mar

Location

Time

06:00 PM

Price
The inspiring true story of courage. The Amazing Lives podcast speaks to Antoinette Tuff; the woman who prevented a mass school shooting.
International Women's Day marks the launch of a new audio partnership between BALANCE and Fora: 'The Amazing Lives' podcast. This podcast interviews people from around the world who have incredible and inspiring life stories to share: Stories of challenge and change; Stories of mental fortitude and resilience; Stories of compassion and kindness. We talk to people whose life experiences have taught them valuable lessons about personal growth and societal betterment that we can all learn from.
We launch the podcast with a livestreamed recording hosted by BBC Radio London's Jumoké Fashola, with special guest Antoinette Tuff. Antoinette became an accidental hostage negotiator when a gunman entered an elementary school in Georgia, USA.
"The first words I heard were, 'today everybody dies.' That's when I looked up and saw him standing there with an AK-47 in his hand."
On 19 August 2013, Antoinette Tuff from Decatur, Georgia, was a severely depressed school bookkeeper, devastated by the break-up of her 33 year-long marriage. As a single mother, she was now faced with the daunting challenge of raising a son with multiple disabilities and a daughter in law school while facing bankruptcy.
The next day, her life changed forever. She managed to prevent a mass shooting.
Antoinette now gives talks all over the world teaching people the three Cs of how to negotiate your way through a crisis - stay 'calm, confident and compassionate'. She recently launched her Living On Purpose Program which teaches women how to be bold, brave and fearless and keep themselves safe in any situation.
Agenda and learning outcomes:
Hear the inspiring story of an ordinary woman battling her demons who became extraordinary.
Retrace the events that occurred before and during the mass shooting and how Antoinette managed to negotiate using intuition, emotional intelligence and empathy.
Hear about Antoinette's learnings from the situation and how she now inspires, educates and motivates audiences with her real-life story.
Benefits of attending the session:
Feel inspired by this amazing real-life story of courage and using negative experiences for the better.
Realise that the tools we need in a time of crisis are often already within us – we just need to harness them.
Learn important negotiation skills.
Feel empowered to effect real change with courage and empathy.