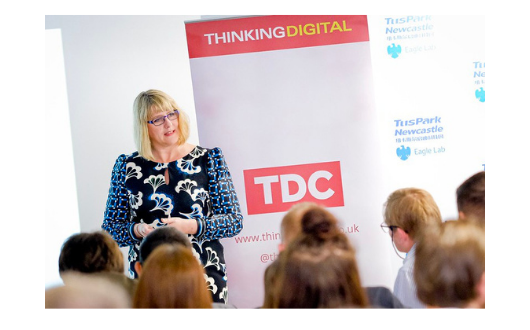 The 9th Annual Thinking Digital Startup Competition
Date

Wednesday,18 May

Location

TusPark Newcastle Eagle Labs, 27 Grainger St, Newcastle upon Tyne NE1 5JE

Time

02:00 PM

Price
: The long running Thinking Digital Startup Competition celebrates its 9th edition this May where 10 early-stage startups will receive the opportunity to pitch to the full 500+ Thinking Digital Conference audience. Winners receive a £1,000 cash prize. Startups from outside the North East also qualify for a £100 travel subsidy. All shortlisted startups also receive a Full Pass to Thinking Digital including the Conference Dinner. The competition starts on Wednesday, 18 May at 2pm at Tuspark Newcastle Eagle Labs where the audience and an expert panel will pick the 2 finalists who go on to pitch the next day on Thursday, 19 May to the full Conference and global livestream audience. The overall winner is chosen by an audience vote.
Thinking Digital are proud to host the 9th edition of the Thinking Digital Startup Competition where we give a platform to innovative and ambitious tech startups from around Europe.
The Startup Competition returns to TusPark Newcastle Eagle Labs located in the heart of Newcastle. TusPark is the world's largest science park operators and are global experts in innovation and incubation. In addition, Jamie Hardesty, Editor of the Newcastle Tech Digest, will be returning as our esteemed host for the afternoon. Shortlisted startups will be invited to pitch their business to a panel of experts and a large audience on Wednesday, 18th May at TusPark.
Two Finalists will then be selected to pitch on stage at the Thinking Digital Conference at the Sage Gateshead on 19th May to the entire conference audience and global viewers tuned into a livestream of the event. The Grand Prize winner is selected by the conference audience.