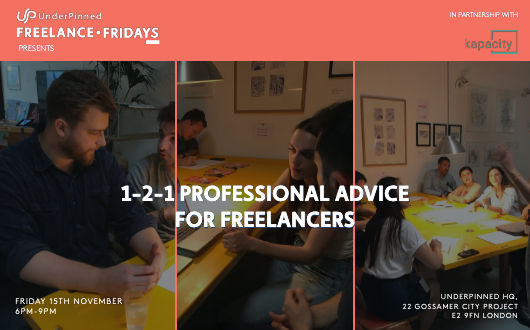 1-2-1 Professional Advice for Freelancers
Date

Friday,15 Nov

Location

UnderPinned HQ, 22 Gossamer City Project, E2 9FN

Time

12:30 PM

Price
Professionals from different industries are giving freelancers one on one advice to help their freelance businesses.
Want to receive free advice from professionals who will give you the answers you need to help your freelance business?
Freelance Platform UnderPinned have teamed up with Kapacity, who offer flexible workspaces to freelancers, to give you the opportunity to talk 1 to 1 with experts who can answer your burning freelance questions.
What topics will I be able to find answers on?
Finding clients and work
Standing out as a freelancer
Managing your finances
Nitty gritty tax queries
Laws you should be aware of as a freelancer
Growing your business
Getting your work commissioned
Have any specific questions in mind that you want answered?
Contact UnderPinned's Head of Community emily@underpinned.co ???? 
What experts will be attending?
Albert Azis-Clauson: Co-Founder and CEO of UnderPinned
Jack Williams: Co-Founder and Creative Director of UnderPinned
Aarti Daryanani: Assistant Manager, Development Finance at Homes England
Jonathan White: UK Chartered Accountant
Francine Blanc: Associate in Planning, Infrastructure and Public Law (Projects) at BDB Pitmans
Eleanor Anderson: Client Partnerships & Business Development Manager at CityCV
and more TBC
How will the event run?
There will be a seat-by-seat rotation, so all attendees will have the opportunity to sit opposite each business professional and ask questions specific to their business. Once all of your questions are answered, you're free to mingle with the other freelancers and enjoy the free bar! We want this event to connect people in different industries with one another and learn skills that will advance their businesses.
About UnderPinned's Freelance Fridays
Twice a month UnderPinned throw a free London based event for freelancers, solopreneurs and anyone who's embarking on an independent professional journey, looking for career advice, a support network or to meet like-minded individuals. Freelance Fridays is an initiative designed by UnderPinned to support, nurture and empower people. A relaxed social event with showcases, talks, music, and film that offers a chance to network without any pressure.
About Kapacity
Kapacity acts as a platform where users such as freelancers, hot-deskers and other individuals can access workspaces such as hotels, restaurants, co-working spaces and other spaces through the day.