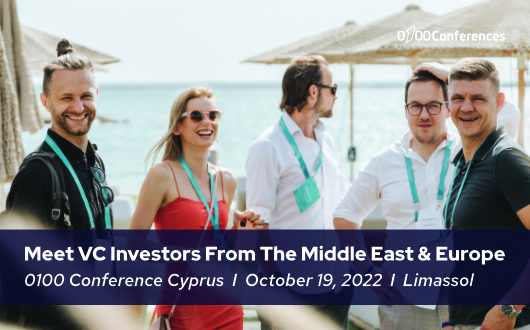 0100 Conference Cyprus
Date

Wednesday,19 Oct

Location

Time

12:00 PM

Price
The 3rd edition of an in-person conference that brings together Venture Capital investors from the Middle East and Europe. The main investors' event of Reflect Festival, a tech festival gathering 5000+ attendees and 80+ speakers.
0100 Conference Cyprus 2022 edition will bring together senior fund managers, investors, entrepreneurs, and leading service providers.
The conference aims to bring capital to the region, contribute to developing the growing tech ecosystem, and make Cyprus attractive for international funds.
Cyprus has unlocked doors of opportunities for investors and entrepreneurs by transforming the country into an investment-driven nation.
In addition, Cyprus is literally at a crossroads. Located at the intersection of Europe, Africa, and Asia, it's inevitable that Cyprus would emerge as a tech and entrepreneurial hub.
During the program, you will learn from 20+ market experts who will share their knowledge and expertise on the topics such as "Current Fundraising Environment", "Real Estate & Proptech Investments", "Sourcing of Investments and Their Valuation", "HNWI & Family Offices - How to play an important role in the VC Industry?" and more
Networking breaks are perfect chance to build meaningful connections with the private equity thought-leaders from funds like Haflo, Exerte Partners, Kinisis Ventures, Flashpoint Venture Capital, TA Ventures, VentureFriends and many others.
Speakers and sponsors will have the opportunity to join a VIP Dinner after the conference, which gives you even more opportunities to connect with your peers and the latest news and insights from industry experts.
We look forward to welcoming you to Limassol on the 19th of October 2022.