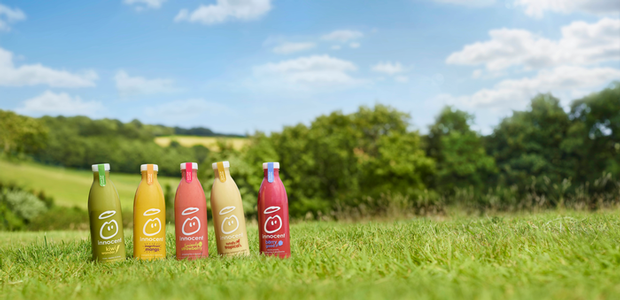 Your tone of voice needs work - here's why
This guest post comes from Caroline Macdonald, CEO and founder of OggaDoon, the guerrilla comms business. If you have no idea what tone of voice is, head to Twitter and scroll through Innocent Drinks' feed. Then come back here. Done it? Great. 
Innocent Drinks has spent years crafting a beautiful tone of voice that is instantly recognisable as soon as you see it. Irreverent, joyful, and slightly obsessed with dogs, the team at Innocent have seen the value of a strong tone of voice and they are putting their efforts to good use. 
It all started with a festival. Three friends (working as consultants at the time) sold their first ever smoothie recipe at the music festival and asked customers to put their empty bottles in either a 'Yes' bin or a 'No' bin. The question? Should they quit their jobs tomorrow and make smoothies full time?
The rest is history, and proves just how early tone of voice begins in startups. On the B2B side, there are some other great examples. AddThis, a website management system that empowers users to develop their websites with the best tools, doesn't take such a jovial tone as Innocent Smoothies but that's right for their brand. Their calm, expert, and passionate tone of voice has gained them over two milliom followers on Twitter alone.
Both Innocent Smoothies and AddThis began their lives as startups - and I think their success not only comes down to great products and services, but clear, consistent and relatable  tone of voices. So why is tone of voice important for startups?
Is tone of voice really that important?
Yes. As a startup, your brand development is actually far more important than other aspects of your marketing, such as whether you have great re-marketing process, or a busy Twitter feed. That's because the way you establish a tone of voice now will impact your business' growth and development for years to come.
Tone of voice is a critical component of this because it's the feeling you give to everyone who comes into contact with your brand. Whether it's a potential investor, future customer, or current loyalist, whatever that feeling is that you want them to associate with your brand, tone of voice is a key way to create that.. 
The numbers don't lie. 38% of communication is all about tone of voice - that means you could improve your comms by over a third by having a stronger tone of voice. According to a report by Forrester Research, businesses get 90% through their purchasing decision process before they speak to a human, so your marketing needs to be doing some strong selling for you.
And it goes further than that. Tone of voice will accelerate your campaigns, grow your brand reputation, help you to establish yourself differently from your competitors, grow your customer base, and drive loyalty in those you interact with.
Phew. Turns out tone of voice is a big deal. 
Who else is doing this well?
Heist Studios. Tights and shapewear designers, they understand their audience wants far more than sell sell sell - especially when it comes to underwear. Their tone of voice across social, newsletters, and website is cohesive, rooted in values, and grows a relationship directly with their customers. 
Then there's CloudSmartz. It's challenging to write about tech in a way that excites, informs, and (eventually) sells, but CloudSmartz manage it. Their website and comms are focused solely on the people they know are going to want to buy from them, without compromising to get a few extra clicks. 
But not everyone is getting it right. American Airlines got into a sticky viral situation on Twitter when they set up an automated tweet thanking people for flying with them - which was then sent to absolutely everyone who tagged them in, even if it was a complaint. 
There is more than one way to get tone of voice wrong. You can have none at all, just fading into the background becoming unmemorable. You can misunderstand the tone of voice your audience wants and disappoint/irritate them. Or your tone of voice can be so off base that it offends.
Okay, I'm convinced. Tone of voice is important. Where do I start?
With a blank piece of paper (or digital equivalent). Even if your startup has been going a few years and you feel like you have already developed - consciously or not - a tone of voice, starting afresh gives you the step back to really evaluate where you are. 
1. What values does your startup have?
Start with your values, because those will form the bedrock foundation of those impressions and feelings I wrote about earlier. Is your startup dedicated to sustainability? Is it a friendly office? Do you value the work/life balance? Are you firmly rooted in your community? Whatever your values, they need to seep through your tone of voice. 
2. What is the personality of your founder?
This is a bit of a double edged sword. A founder will naturally seep their personality into the startup they create, and in many ways that can be great: they set the culture, atmosphere, and many of the initial values. But your brand tone of voice cannot be simply the same as your founder, because this can alienate some of your audiences and prove different as and when they want to step back/sell.
3. How much personality do you want your brand to have?
There is definitely a spectrum of personality for brands, from Innocent Drinks at one end and more serious corporates  at the other. How strong a personality do you want for your brand? Do you want it to be instantly recognisable, for all the right reasons, or something soothing and familiar?
4. Any issues that your brand has a stand on?
Politics, religion, money - not the sort of things a marketer or founder typically have to think about when it comes to the brand tone of voice. But look at Lush Cosmetics: they have taken public stands on human rights issues and that is a core part of their tone of voice. Look at the Robin Hood Tax, a B2B campaign movement that challenged banks to do a small bit which would make a difference to millions, by taxing high transfers a miniscule amount. What causes or issues do you want your brand to take a stand on?
5. Who is your customer base?
Your audience will direct much of your tone of voice development. A target audience of business decision makers in IT will need a very different tone of voice to the audience of latest Fortnite release, which will be different again to target customers of a TUI holiday. Consider that you'll need slight variations of your tone of voice for whether you're speaking to end users, B2B customers, investors, shareholders, and your team. 
6. Don't forget those crisis comms
The moments when your tone of voice often really counts is during crisis comms scenarios. Are you suitably apologetic, triumphant, transparent, or whatever is needed by your audience? Research has shown that 40% of businesses have no crisis comms plan in place at all, so if you're part of that 40%, I strongly recommend you create one.
And that's it?
Nope. You will need to frequently review your tone of voice guidelines, updating them as your brand grows and develops. Your industry will probably change over time, changing the parameters of your audience's expectations - and your competitors could eventually catch up with you, forcing you to reframe your positioning against them. 
All part of the growing marketing activities your startup should be delivering to ensure continued growth. 
Disagree with me? Email Caroline now!