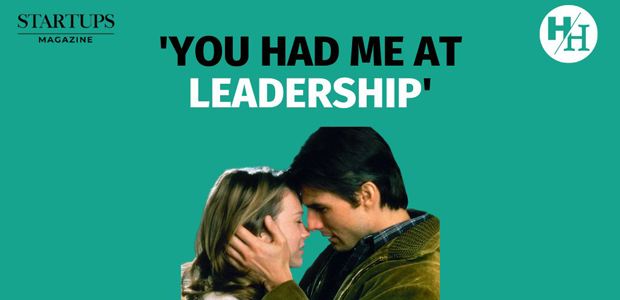 You had me at leadership
Perhaps you know it: the iconic scene from Jerry Maguire where Dorothy (Renee Zellweger) stares longingly at Jerry (Tom Cruise) as he declares his undying love for her, announcing that she completes him, hoping it will win her over but he needn't have, he had her at 'hello'. She was gripped from the moment he walked in, she wasn't listening to his fumbled speech, she was mesmerised, and one thing is for sure, she certainly wasn't thinking about leadership. Nope. That was far from her mind.
Jerry, for the most part, was all about business and leading his one and only client to success. He was doing affirmations and manifesting before it was a thing – "SHOW ME THE MONEY!" - but did Jerry ever stop and think about the type of agent or the type of leader he wanted to be? Have you? Have you asked yourself, how do I want to be known as a leader? What's the first thing I want people to think and say about my leadership style? Will I capture them, will I leave them feeling a certain way? Will I have them at hello?
WE'RE NOT SAYING YOUR LEADERSHIP BRAND HAS TO BE ONE THAT WINS OVER THE HEART OF EVERY RENEE ZELLWEGER BUT IT SHOULD BE ONE THAT WINS YOU OVER, ONE THAT FEELS AUTHENTICALLY YOU, ONE YOU LOVE, LIVE BY AND PRACTICE EVERY DAY.
Few might think about their leadership as a 'brand', but it is whether you consciously create it or not. Just like in business, every leader has a brand - an identifiable persona that reflects what you do and how others perceive you. It's the way you act and interact, and it's predicated by your own values and priorities.  It helps express your identity and individuality as a leader.  It also helps determine whether people believe you and believe in you – so there's a direct link to performance and engagement here.
You can let it develop organically, or you can be purposeful about it and take some time to ensure that your brand is what you want it to be. So, we want to help you determine what your leadership brand could look like with a few simple steps. This is about really thinking what you want to be known for, making the most of your strengths and developing the areas that you care about most.
Here's how to cultivate your own leadership brand:
Ask yourself what you want to be known for/how you want to be known as a leader.
What do you want people to say about you? Think about you? How do you want them to feel when they see and hear you? Having a clear understanding of your motivation and purpose is the starting point for your leadership brand – get all of that out, write all of that down. The more clarity you have on the type of leader you want to be, the more focus you can give to the work and approach that aligns to that.
Identify your current strengths
Write down a list of the things you know you're good at, that you enjoy or that people have given you feedback on that you do well. Now look at the list of what you want to be known for – perhaps some are already your strengths and whereas some might be more aspirational.
Prioritise your list
Make sure it has a balance of strengths and aspirational yet achievable characteristics of what you want to be known for. Take a step back and look at the ones that truly matter the most to you.
Create your leadership brand statement
This is the statement you will come back to time and again to guide your leadership journey.  This doesn't have to be an essay, it can be as short and simple as you like, for example - "I want to be known for seeing what really matters, having the courage to make the call and an ability to engage others to deliver amazing outcomes. "
Test your brand out
Ask yourself the following questions and seek feedback/input from others (you may have done this already if you read our first article):
Does it best align with who I am and what I can do?

Does it create value for my business / the business I work for?

Does it feel authentic?

Does it feel realistic to practice every day?
     6. Make your leadership brand visible!
Walk the talk and practice daily. Make it clear that these are not just words, that your actions back them up and people see you as having integrity. Come back to your statement regularly. Test it. Your leadership brand isn't something just for you, be open and share that you've been purposeful about the type of leader you want to be and live it.
No matter your role, your level, or what you do for work everyone can benefit from defining their own leadership brand. It might evolve or refine itself over time as you develop in your career but if you remain true to your values and practice consistently, you'll have more people at 'hello'.
Jerry Maguire probably teaches us more about what not to do as a leader and he certainly didn't have the best brand or approach in a lot of what he did, but he had heart and he had vision and that is key for any leader. So, with that in mind, next week we'll be taking a look at how you can paint your future vision which can give you, your team and / or your business a clearer sense of direction and purpose.