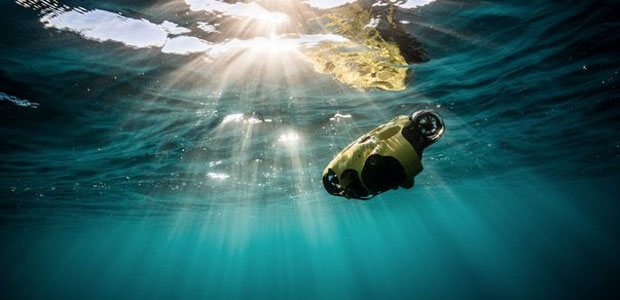 The world's first autonomous underwater drone
In 2015, Nicolas Gambini decided to create the world's first autonomous underwater drone. Four years later, meet iBubble.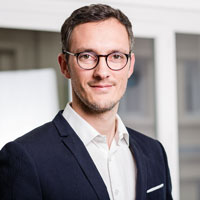 Drones can fly in the air so why can't they swim underwater? Well, back in 2015 Nicolas Gambini, Founder of Notilo Plus, had the idea to take the typical air drone and its activities and make it do the same but underwater. The problem was that all the drones used in the air were too heavy to work underwater and included technologies like GPS, WiFi and Bluetooth that proved problematic in this environment.
WHERE DID YOU START?
In the beginning Gambini and his Co-Founder Benjamin Valtin had to figure out how to make a product that would work in the water and if people would be interested. With this idea they created a Facebook page to see if there was any traction from the market. Gambini said: "Within a few weeks we had thousands of people interested in the product, so we thought there was good evidence here that this product could be interesting."
So Gambini went off to find the right technology - that was three and a half years ago and a lot has happened since, mainly the birth of the world's first underwater autonomous drone - the iBubble.
HOW DID YOU GET FUNDED?
"We ran a crowdfunding campaign which was a success - we raised $200,000. Then we started making prototypes with the technology we have developed, and started to look at who we were targeting," Gambini explained.
Gambini continued that 2017 was an interesting year. "Our first proof of concept was ready, and was functioning. It was actually very close to our end product, but in terms of its form it was much bigger and heavier." Gambini said it was almost twice the size of what the final iBubble is, and much heavier, but it did work nonetheless.
They used this product to convince businesses and investors to put money into the company. Gambini said: "From this we raised €650,000 from Seedrs, so we used this money for technical developments and marketing." He explained they needed to make sure that once the product was ready they would be able to deliver and serve the audience.
It was also around this time that the first discussions around the B2B solution took place. "The idea was that we have a technical platform for our drones, which is spilt between the two applications, the leisure application iBubble and the professional application Seasam."
Seasam is the first compact autonomous solution able to collect, analyse and process underwater data for commercial and industrial applications. Gambini explained: "The Seasam drone is customisable and can operate any sensors to analyse the data from them, and can withstand an increased payload. The components of the Seasam are also varnished to give extra strength, and the batteries in the drone can be swapped in and out. This has left us with a platform to evolve which can go in different directions."
The iBubble can reach a power of three knots, with its seven propellers and internal stabilisation system, and it will remain stable even in strong currents. Back in 2017 the team also produced a new prototype, which Gambini said: "Was 85% of what we wanted to achieve in the end product in terms of design."
They had two objectives in mind when they designed both products: 1. To demonstrate the ability of underwater drones, and 2. For more technical users to be able to gain a lot of data from different environments such as caves and lakes – so this meant the product needed to be robust and reliable.
THE IBUBBLE TOUR
In 2018 the team was ready to industrialise the product, and through the iBubble tour they raised money to do so. The iBubble tour was a roadshow which first went around Europe; Spain, France and Italy, then for the second part moved across the pond and toured North America and Mexico, to allow professionals to dive first-hand with iBubble.
From the tour the company raised €2m from the south region which they were able to use on the resources and tools they needed to actually launch the product. It was also a great experience to gain feedback from users, Gambini said: "We knew from this we were very close to the end product."
On the iBubble tour the team were able to meet such a vast range of people and learn that a very large audience would be interested in their product. Gambini said: "It was so refreshing to see people and customers, and every day we were just coding new features – it was such good fun, I enjoyed that a lot."
HOW IS THE DRONE WATERPROOF?
"We use start-of-the-art waterproof technology," Gambini said as he explained it wasn't anything revolutionary it is just injected plastic parts that are screwed together. "It is nothing new, but we have to be very careful with our design to make sure it can stand being 60m underwater, and 100m for the more professional market."
He added: "We did lose a lot of drones on the way, but now they are robust so it was worth it."
What was the biggest challenge?
There were two things Gambini said has been most challenging so far: "First the technical change we had to go through to make the product work. There was a lot of technology and work involved. Secondly, as a startup, when you have an idea the first draft is always hard as you have to make sure it's right for you but also for your customers."
He added that way of thinking isn't so easy to apply because you can be working hard, but not looking at the overall picture, and it's so important to make sure you are sticking to the correct path.
Gambini added that it was also a lot of work to get funding especially in France: "It is a lot harder here to get funding, compared to other countries, I spent a lot of time trying to convince people of our product."
Is there competition?
Gambini believes that Notilo Plus has an advantage because at the moment they are unique. "There are a lot of companies in China that have emerged over the past few years. At CES recently we saw a lot of these companies talking about prototyping over the next two to three years and interested in our concept, but this means we still have a competitive advantage."
The difference also is that these Chinese manufacturers have products that have to be controlled by a wired remote from the surface, unlike Notilo Plus' products that can be controlled underwater or thanks to the Explorer pack which allows you to plug in a cable and launch the app on a smartphone or tablet whilst staying dry.
Notilo Plus has one third of its customers based in North America, one third from Europe and the other third from the rest of the world, so there is already a global platform for the company.
WHAT'S NEXT?
Gambini answered: "We are working on two things: one, the commercial launch and roll -out towards targeting different markets, and two, the technical side which we have been busy working on for the next functionalities for the drone."
Gambini concluded: "We have our technical roadmap for the next five years, and we will continue to work on that, so we can always be on top of the market."