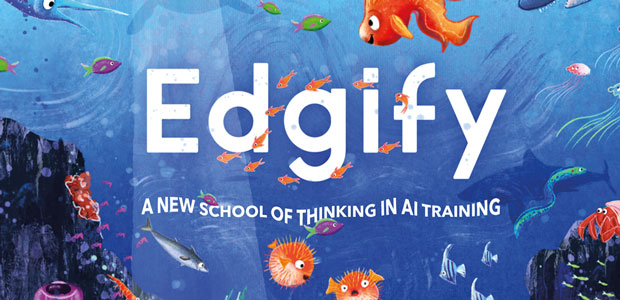 World Book Day: Children's book educates about themes of AI collaboration
Today is World Book Day and primary school children across the UK will be dressed as their favourite fictional characters in front of laptops with their classmates.
A UNESCO initiative in its 24th year, the aim was to show reading is fun, relevant and has the power to transform lives. Technology carries that same potential, but just as Tolstoy's War and Peace may be beyond most eight-year-olds, so too is federated learning for seasoned venture capitalists.
Now, if you don't understand how a distributed and collaborative framework helping AI train directly on edge devices could turn retail, medicine and autonomous driving on its head, don't fret. You're not alone.
I wrote a children's book for precisely that reason. I've been to conferences for machine learning specialists and even there you meet people who don't have a clue. That's the trouble with deep tech - it's REALLY hard to distil it down to simple principles that you and I can understand. Not being a developer myself, I even struggle with my tech team in Israel sometimes.
Instead, the idea of writing a children's book came to me after having several conversations with friends, family and - yes - potential investors about the technology, which left most of them more confused than when I started.
As mentioned, Edgify's distributed and collaborative framework helps AI train directly from edge devices. What does that mean, you may well ask. Think of mobile phones, connected cars, or retail cash registers - they are all edge devices. And in a network of similar devices, they can improve their ability to process data and therefore perform efficiently - without sending or transferring the all-important, but heavy, data to a cloud.
Every edge device produces so much data, it would take days to upload it to the cloud, analyse it, then download improvements back onto the devices. Even then, it would be impossible to work with the entirety of the data produced - which inevitably impairs accuracy. These edge devices then effectively share the learnings within the local network - such as a supermarket's self-checkout machines - helping them learn from one another without relying on a centralised cloud to store the information.
The process, often called 'Edge Computing', is a strand of deep tech that is transforming the way AI models are formed and their relationship with the cloud.
So my book 'Edgify - A New School of Thinking in AI Training' follows Goldie the fish as she and her friends try to cross the ocean to a coral paradise using federated learning as a method of collaboration. The book introduces a group of fish who share information to make better decisions democratically - just like an edge computing AI framework.
In the book, the concept is represented by the fish who travel across the ocean to their paradise coral reef by exchanging ideas, continuously learning, and 'collaborating' with one another when sharing skills and experiences while they travel.
Today the notion of the cloud is so embedded - a centralised place where everything is located and you can access it - so we figured we need to change that mindset first. If we could teach phones to analyse their own data, we can also teach them to train their own AI model based on that data, and hence the cloud becomes obsolete. If you can analyse the data locally, where it's generated, and train it, then you really don't need to transfer anything to the cloud ever for any purpose.
Incidentally, one of my favourite characters in the book is Goldie's nemesis, Malwareon, an enormous and terrifying squid - wearing Guy Fawkes mask popularised by Anonymous Group - to signify the inherent risks of entrusting data to the cloud, where it is more susceptible to hackers.
The book is an important stepping stone in starting this transition in our relationship with the cloud. Sure, storage and collaborative photo albums between family members won't go away anytime soon, but training AI on the cloud presents privacy and security risks that can now be avoided entirely.
Feedback on the book has been hugely positive. Aimed at 8-12-year-olds (and their parents), Edgify has sent copies to AI researchers who can read the concepts as a bedtime story as well as organising webinars and live readings. When I am asked about the morals (of the story), a lot of kids say that collaboration is key. It's a great moral but it's nice it comes in the sense of collaborative learning.