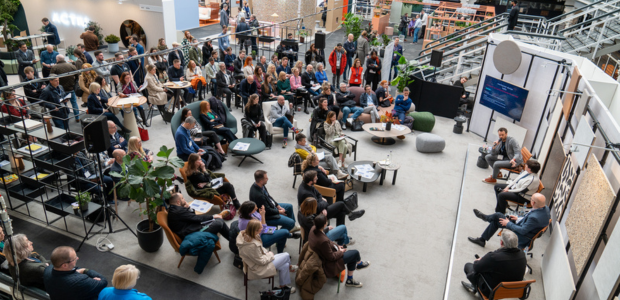 Workspace Design Show: Unveiling Inspiring Workplace Concepts and Connecting Professionals in Amsterdam
The highly anticipated Workspace Design Show is set to take place from October 11-12, 2023, at the RAI in Amsterdam. This premier event offers a fantastic opportunity for professionals to explore the latest trends, innovations, and ideas in workspace interiors. With over 2,500 workplace professionals expected to attend, this is an event you won't want to miss.
Workspace Design Show offers the chance to create relationships and discuss current and future workplace interior projects. By attending, you will have the chance to discover new products and solutions from leading brands such as Vitra, Ahrend, Sedus, Vepa, Interface, Mikomax / Hushoffice, Interstuhl, and Kettal. Additionally, you can learn about best practices in workspace design from over 90 speakers and connect with like-minded individuals who share your passion for creating exceptional workspaces.
One of the highlights of the event is the Workspace Design Talks, featuring thought-provoking discussions and panel sessions with renowned industry experts. Speakers from esteemed organisations such as MVRDV, UNStudio, Fokkema & Partners, Powerhouse Company, MVSA Architects, AECOM, Arup, Hofman Dujardin, Hollandse Nieuwe, CBRE, Cushman & Wakefield, D/DOCK, and more will share their insights and expertise.
The Occupiers Forum is another must-attend segment, where panel discussions will provide insightful perspectives from end-user occupiers at prominent companies such as ING, Philips, EY, Rabobank, Miro, Microsoft, Ericsson, Just Eat, UCB, Booking.com, as well as Turner & Townsend, CBRE, Colliers, and Cushman & Wakefield.
The exhibition hall at Workspace Design Show will feature over 300 innovative products and solutions in workspace design. From ergonomic furniture and smart technologies to sustainable materials and acoustics solutions, you'll find everything you need to create a functional and inspiring workspace experience.
Attendees will have the chance to share ideas during dedicated networking sessions and the networking party, scheduled for the first day of the show. This exclusive gathering offers a fun and intimate atmosphere where you can expand your professional network.
Join the Benelux leading workplace professionals, including designers, architects, end-user occupiers, dealers, developers, consultants, fit-out companies, and coworking companies, and be part of the change. For more information and to register, visit the official Workspace Design Show website at https://workspaceshow.nl/.