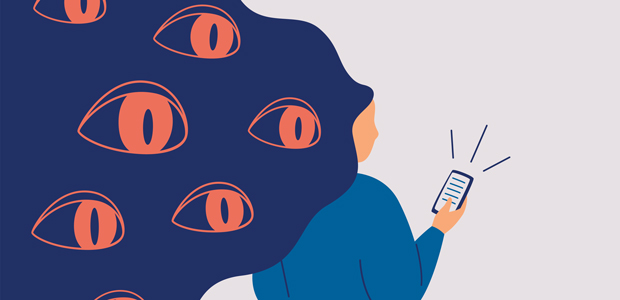 Working from home: why employee monitoring software should be avoided
COVID-19 has changed the way we work forever, with limited in-office hours and lockdown 2.0 seeing hundreds of businesses going back to 100% remote work, there has been a dramatic rise in demand for surveillance software that monitors employee activity.
This software, occasionally referred to as 'spyware', can be used to track anything from hours a specific user spends at their computer, social media usage, web browsing activity and even private messaging. We spoke to Katya Linossi, CEO, ClearPeople who explained more why it should be avoided. 
The COVID-19 challenge
Before the pandemic, working from home was considered a privilege and was granted to a small number of people. But, with offices shut in March and all employees working remotely, this presented a new challenge to managers.
Home workers are much harder to monitor, increasing concerns as to whether employees are actually working their contracted hours or not. No longer are managers able to physically see what their employees are getting up to, instead they have had to resort to other methods.  
With the promise of giving managers better insight into their team's work behaviours and increased security for companies, at a time of great uncertainty, it is clear why monitoring technology has become popular. The US market has seen the largest uptake for this kind of tech, which has been heavily debated and criticised. However, here in Europe, there are more stringent laws (like the General Data Protection Regulation) which protect employees from this kind of intrusive technology. 
For some employers, this surveillance technology is implemented to prevent fraud, protect trade secrets or to provide workers with the right incentives to maintain productivity. But, in reality, this kind of dystopian tech can encourage distrust within an organisation.
Additionally, the uncomfortable reality of someone watching your every move may intimidate some employees and could have a negative impact on organisational culture, something that has been proven to undermine productivity. 
Undoubtedly, remote work has blurred the lines between work and home, with many people working longer hours to keep up with their heavy workloads. And, with added surveillance, staff's privacy can become threatened, managers now have the potential to find out personal details about their employees, which they wouldn't have had access to in a traditional office environment. 
Ultimately, monitoring employees requires a thought out decision process, managers must consider their employees interests and right to data protection. As well as this, in the UK employees must be made aware of its use and how their data is stored.
Using technology to promote the right things
Employee monitoring software is a short term solution to a long term problem. Instead of a quick fix, focus should be placed on solutions that position the company well for growth in the future. 
Specifically, the focus should be placed on solutions that benefit the employee. According to recent research from Microsoft and Goldsmiths, companies that are navigating the current climate well, are succeeding with a 'sustainable' mix of socially-progressive leadership, inclusive talent management and investment in future agility. 
This 'sustainable growth' strategy prioritises resilience, and the need to adapt. By adopting leadership themes of empathy and decisiveness, businesses can nurture a culture of trust, empowerment and inclusivity, something which wouldn't work if a company decided to utilise spyware.
This is where adopting the right strategies, like a digital workspace, becomes vital. Organisations should drive productivity through the use of technology which promotes transparency, empowerment and inclusion. Investing in this kind of technology is the key to managing a remote team, and ensures an honest culture of communication and centralisation. 
For example, there is a lot of emphasis on how 'busy' you seem to be whilst working from home. Instead of focusing on this, managers need to trust their employees to complete their workloads. One way in which they can facilitate this is to prioritise employees effectively, and use a digital workspace tool to support them with task and workload management.  
Work-out-loud practices
Knowledge is power, especially for new starters. Before the pandemic a new hire would be shown around and introduced to their colleagues, but now many new employees have never met their teammates. This is where technology can help.
All employees should have easy access to information and the resources they need to complete tasks. Encouraging this and knowledge sharing will help achieve work-out-loud (WOL) practices.
A phenomenon often used to describe how people bring together social collaboration and narration techniques in the workplace, WOL starts with making your work visible in such a way that might help other people. Working in a more open and connected way builds purposeful networks making the collective more effective and giving rise to more opportunities. 
WOL comes naturally through regular communication, something that can be achieved by a digital workspace.
A digital workspace is more than just an intranet or communication platform. It enhances collaboration between colleagues by connecting employees, aligning them with company goals, enabling easy access to data, breaking down the barriers to knowledge, and connecting data silos. This will not only level the playing field for home workers, but it will also allow businesses to benefit from increased inclusivity in the workplace, ultimately increasing the talent pool. 
The decision is clear, organisations should drive productivity through technology that promotes transparency, empowerment and inclusion. Investing in this kind of technology is the key to managing a remote team, and ensures an honest culture of communication and collaboration.