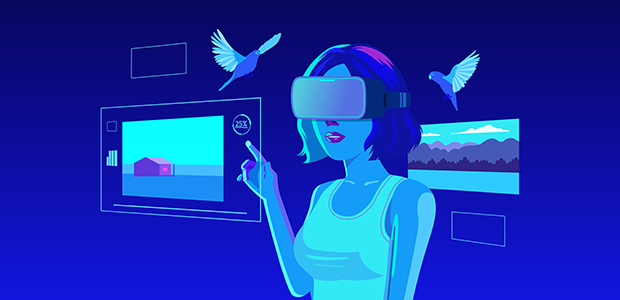 Women and the metaverse: building a world that represents us
Since the news broke that Meta Platforms Inc (formerly known as Facebook) will be leading the work on the metaverse, I often get asked what will happen if this new virtual realm looks like Meta itself, the tech industry, or even the broader professional world, in terms of female representation.
As the CEO of an immersive technology business, I am very aware of both the challenges and opportunities ahead of us. As a woman in tech, I've had to build my networks carefully, fight for my place at the table, and demand to be included in what is still a very male-dominated sector. 
In 2020, women made up only 20% of Microsoft tech jobs, and 23% of tech jobs at Facebook, Google and Apple. Although there are many wildly capable women out there, the world of immersive tech is still very masculine. Its development is very much driven by the gaming industry, which is notoriously male-centric, and this can have a negative impact on the industry.
From unrealistic female body standards for video game characters, to racially biased recruitment AI tools, it is obvious that a demographically homogeneous tech industry is not going to lead to the brave new world we're hoping for. Just like with everything else, you'll reap the best rewards if you include as many different people and viewpoints as you can. 
With a general lack of visible female role models and lingering stereotypes around women and tech, girls are made to feel from an early age that they are unwanted in the sector, both professionally and as consumers. It's the little things - for example, a third of young female gamers report regularly being sent inappropriate content or receiving gender-based abuse on online gaming platforms.
On the hardware front, women are twice as likely to experience cyber-sickness than men when using VR headsets, as the majority of XR hardware is created and sized with male users in mind. Pursuing tech, women have to be prepared to enter an industry literally not built for them. 
Career-wise, the idea that long hours spent in the office equates to good work may seem old fashioned, but it lingers, especially in male dominated industries like tech. When we founded Warpin, one of my first priorities was to create a work environment that enabled our employees to choose both a thriving career and a family. As an employer, I know it isn't how long you stay in the office that matters, but what you achieve while you're there. Some of the most efficient people I have worked with are parents, and some of the very best are mothers. 
To ensure a healthy representation in the metaverse and beyond, we need to make immersive tech a plausible and attractive career prospect for a new generation of men and women. To achieve this, we need to not only talk the talk, but actually walk the walk. My own female role models in the sector are those who help other women rise. The women who nominate other women as board members, who have successful careers and pay it forward by helping other women succeed. It's not enough to be tolerated sitting at the table; once there, we have to actively use that position for good. 
As women in immersive tech, we need to take up space, be visible, and demand to take part in the building of the metaverse. We need to lobby for it to be a safe space for women and girls, for correctly sized VR sets to be available for all shapes and sizes, and to open up the same XR opportunities for women as for men. 
There is no doubt in my mind that the future of deep tech is bright, and that the metaverse has the potential to be a real equaliser and a force for good. But for all this potential to come to fruition, we need to ensure that this virtual world caters for the needs and desires of everyone, not just a small group of people. Early adopters of new tech are generally men and youngsters, but if women just dare claim their space in the metaverse, we have a golden opportunity right now to shape it to our liking. If we can encourage more underrepresented groups to get involved in its creation - men and women of all ages and backgrounds - we can build a rich and colourful virtual world,  a true metaverse, that will both benefit and suit us all.