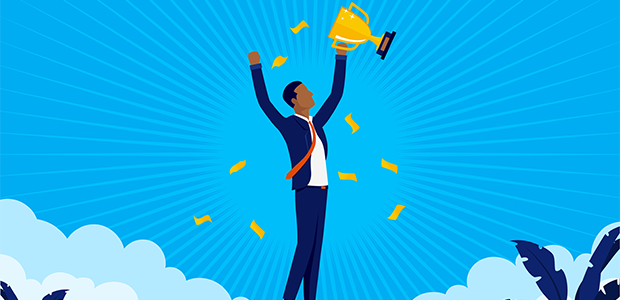 Winners announced at the 10th Black British Business Awards
Over the last decade, the Black British Business Awards have proudly highlighted over 370 game changing rising stars and senior leaders across all UK sectors.
A Netflix film marketer, an Extreme E racing engineer and a fashion creative with ASOS are named amongst the winners at this year's BBBAwards ceremony in central London.
Aaron Lynch, Senior Manager, Global Creative Marketing at Netflix has been named as this year's Black British Business Person of the Year at the 2023 Black British Business Awards (BBBAwards).
Aaron is a breakthrough marketing phenom with over 12 years of experience working in scripted and non-scripted content across BBC One, BBC Three, Channel 4 and now Netflix. Since joining Netflix over five years ago as the Global Creative Marketing Manager, Aaron was instrumental to the relaunch of the rebooted Top Boy and Black Mirror franchises – including the groundbreaking interactive special Bandersnatch. Aaron is a key driver of content for Netflix, leading initiatives such as the 'Black British Stories collection' and working alongside the content teams to bring new and classic Black British voices to Netflix's audience of 230m+ people in 190 countries.
At the evening ceremony, held at the InterContinental London Park Lane, the Black British Person of the Year Award was presented by Chuka Umunna, Head of EMEA ESG & Green Economy Investment Banking for J.P. Morgan. 
Upon acceptance of his Award, Aaron said "Trust, always trust, because it's empowering if you know that people are behind you and supporting you. You will sometimes make the wrong decisions, but knowing that you have people there to support and guide you - means you can step into your power. That is what Netflix has done for me."
Over the past decade, the BBBAwards have celebrated and elevated the achievements of Black entrepreneurs and professionals who reflect the very best of British talent on the world stage. The BBBAwards have inspired future generations, promoted inclusion, and contributed to better represented and innovative business landscapes.
With the theme #WeAre, this year's BBBAwards 10th Anniversary celebration embraced the collective strength of the Black community and their Allies, uniting to propel racial equity within companies across the UK. 
Dr Sophie Chandauka MBE, Chair and Executive Founder of the Black British Business Awards said: "The winners of the 2023 BBBAwards have once again encapsulated the passion, ethos and values of our mission, and I offer my most sincere congratulations to them on what I hope is a momentous occasion for us all. I am filled with immense pride and gratitude for the incredible journey we embarked upon a decade ago. Witnessing the growth and achievements of Black talent over the years has been nothing short of inspiring. The BBBAwards would not be here today if it wasn't for the exceptional contributions of Black British business professionals who galvanise change and act as role models in their communities. Their dedication to entrepreneurial and professional brilliance paves the way for those who come after them. Their achievements have not only redefined the narrative of Black talent, but also set new standards for excellence and diversity in Britain. I dedicate our success to every winner, finalist, sponsor and ally of the BBBAwards, and look forward to the future."
Cecil Peters, Head of Diversity, Equity & Inclusion in EMEA at J.P. Morgan said: "It is with great pride that we celebrate this 10th anniversary milestone of the Black British Business Awards. Since its inception, J.P. Morgan have supported the BBBAwards in creating a platform for recognising the exceptional performance and outstanding achievement of Black professionals who are continuously striving to create change and a lasting impact. We extend warm congratulations to Aaron Lynch and celebrate the achievements of all of this year's finalists who have demonstrated a level of excellence, grit and depth of character that is truly inspirational."
The BBBAwards also celebrated a special honorary award. The Ally of the Year Award celebrates the work of senior Allies to the Black community who continue to strive for diversity and equality in business. The 2023 Ally of the Year Award went to Andrew Bagley, General Counsel of EMEA and Head of the EMEA Legal Division at Goldman Sachs.
For the fourth year, J.P. Morgan is the Key Partner of the BBBAwards and The Daily Telegraph is the national Media Partner for the sixth year running. For the first time, IHG Hotels and Resorts is the official Hospitality Partner.
Other significant sponsors are: Accenture, AlixPartners, Baker McKenzie, Barclays, Bloomberg, Executive Leadership Council, Fidelity International, Goldman Sachs, GSK, LinkedIn, L'Oréal, Morgan Stanley, MSCI, Netflix, Oliver Wyman, P&G, S&P Global, Sage, Tranzfar, UBS, Wellington Management and Wells Fargo. Through their support of the BBBAwards, these organisations are demonstrating that race equity is a key priority as they celebrate the success of another group of impressive finalists and future leaders at this year's awards ceremony.
The BBBAwards event recognised the achievements of Rising Stars and Senior Leaders across six industry sectors: arts and media, consumer and luxury, entrepreneur, financial services, professional services, and STEM. The recipients consisted of visionary professionals and passionate business owners who are dedicated to spearheading equitable change and championing Black excellence within the business landscape.
The winners of the 2023 BBBAwards are as follows:
Black British Business Person of the Year - Aaron Lynch, Senior Manager, Global Creative Marketing, Netflix

Arts and Media Rising Star - Abiola Bello, Director, Author and Publisher, Hashtag Press Ltd

Arts and Media Senior Leader - Angela Ferreira, Managing Director, Douglas Road Productions

Consumer and Luxury Rising Star - Kelsa Albert, Senior Learning Experience Manager, Decker's Brands

Consumer and Luxury Senior Leader - Vanessa Spence, Senior Creative Director, ASOS

Entrepreneur Rising Star - George Imafidon MBE, CEO, Motivez

Entrepreneur Senior Leader - Ken and Mary Okoroafor, Founders, The Humble Penny and Financial Joy Academy

Financial Services Rising Star - Kwaku Kyei-Manu, Director of Wealth Application Support, SS&C

Financial Services Senior Leader - Tosin Akinluyi, Managing Director, EMEA Head of Macro Research, Morgan Stanley

Professional Services Rising Star - Harold Memela, Senior Manager, Transformation and Change, KPMG

Professional Services Senior Leader - Dinah Cobbinah, Partner, FS Transformation Services, KPMG

STEM Rising Star - Dr Azzedine Dabo, Investigator, GSK

STEM Senior Leader - Eve Kamau, Senior Director DCT Strategy and Innovation, PPD (part of Thermo Fisher Scientific)

Ally of The Year - Andrew Bagley, General Counsel of EMEA and Head of the EMEA Legal Division, Goldman Sachs