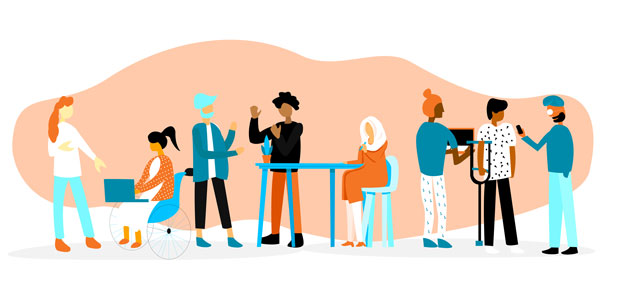 Why workplace inclusivity matters
As many companies across the UK finally start returning to office life with cautious optimism, workplace inclusivity should remain one of the most important goals for any organisation.
Feeling strongly connected and having a sense of belonging within your workplace can be hugely motivating and can encourage employees to go above and beyond their day to day activities to deliver exceptional work for the company and fellow colleagues.
At Caeli Nova, we focus on inclusivity as a key driver of our creativity and aim to create a culture in which each individual feel like they belong. We call on every business, new or established, to share that approach.
Don't limit your creativity
Both aerospace design and engineering - two sectors in which we work at Caeli Nova - still suffer from a lack of diversity, although we acknowledge progress is being made.
I strongly believe that this limits the creativity and new perspectives needed to keep evolving and bringing through new technologies, as it would in any line of business, particularly startups. We have therefore always set out to build a diverse and inclusive team, firstly through our recruitment process.
Given the historical make up of our industry, recruiting a diverse range of people with senior leadership experience in aerospace has always been a challenge for us and many other organisations, but it's something we take very seriously. We continue to reach out to a wide range of candidates for senior roles, but it can be difficult. However, we don't want other organisations to be put off by this.
Where we've been able to have more impact is in entry-level and mid-level roles, where, amongst other things, we try to take advantage of the gradually increasing diversity in the range of candidates studying STEM subjects at university. This is something we would encourage all other organisations to do.
To be clear, we do not make 'diversity hires' and will always make the offer to the best available candidate. Instead, we look to encourage maximum diversity in our pool of applicants from the very start of the process, to give us the best chance of building a diverse team. This includes critically assessing the diversity and quality of applicants that we see from different universities, and then using that information to adjust focus onto the most diverse campuses for our future hiring efforts.
The result so far is a diverse technical team with just over half being women and around a third being from ethnic minorities. Whilst within our industry our team would be considered very diverse, we know we can do better. We now need to ensure that we nurture and grow a diverse range of people in our team to take up more senior roles in future. We're certainly not claiming the job is done here. We'll never relax in the pursuit of improving our inclusivity and nor should you.
Go a level deeper
Beyond recruitment, creating an inclusive environment, where everyone feels comfortable to be themselves, is key to our goal to retain, develop and promote a diverse range of people in our team in the future. We believe in a culture that is truly focused on and celebrates individuality and where everyone feels a sense of belonging.
To help everyone be themselves, it is important to remember that diversity is not only about the characteristics that often get the most coverage, for example gender or race. There are a huge number of characteristics that make us who we are and any of these could be important to a team member's personal identity and a key part of them feeling comfortable and performing their best at work.
For example, socio-economic background is important to me personally, because I've worked in environments in the past where I've felt like I didn't fit in as someone from a working-class background, which had a negative impact on my confidence and performance.
As a start-up, we don't try to run initiatives centred around lots of different characteristics. Instead, we aim to help all our team members feel comfortable to talk about their background and share their perspectives with each other openly and without judgement.
One example of this is our recent 'Roundtable' discussions, where we split into small groups of about five people and one of each group shared their background and their story of how they got where they are today. We had great feedback from everyone on how these sessions gave an opportunity to reflect, to get to know each other on a deeper level, and perhaps most importantly to understand our own privileges and the challenges faced by people from different backgrounds to our own. I would suggest other organisations try their own roundtable discussions, especially after your team has been through a period of rapid growth.
Real world results
At Caeli Nova, we have created a team with a diverse set of aerospace backgrounds and a wide range of R&D skills to overcome a challenging development timeline as we take Cordillera, our first product, to market. By blending this experience in a collaborative and inclusive environment, we have created a passionate and energetic team that is making great progress.
Going forward, we are also looking for ways that we can help encourage a more diverse pool of young people in our part of east London to pursue a career in STEM. We want to continue to encourage future diversity in our industry, not just now but for the long term.
Whatever your sector of business, workplace inclusivity must be a priority in 2021 and beyond, making sure all members of your team feel that they are valued and that they belong.