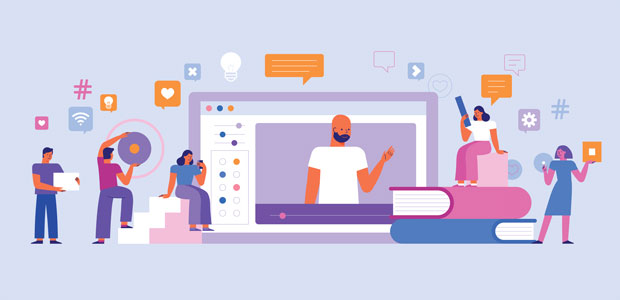 Why we don't need another social media platform to communicate with teams
Ineffective communication at work has the potential to be extremely damaging to productivity. It opens opportunities for misunderstandings, misinformation and conflict and can turn small problems into big issues.
This is not a mistake businesses can afford to make, particularly considering the fact that the way we work has changed drastically over the last two years. Having an effective internal communication strategy is the key to being able to navigate the 'new normal' as employees become increasingly fragmented, working from the office, at home, in deskless roles and on the go.
Since the work from home advice lifted, less than one in ten people have returned to their desks full time, and businesses are coming up against challenges they have never faced before, particularly as they manage communications between traditionally desk-based teams and a proliferation of deskless workers.
While technology played a huge part in keeping teams intact during the pandemic, has it confused and complicated the way we communicate at work in the long-run?
Where important business decisions and meetings would have previously been in-person, these often now take place over Slack, Zoom, Teams and other online communication platforms. For the sake of speed and ease, these tools are useful.,However, many now replicate the social media platforms and messaging services we use for informal chats. While this might offer some familiarity, it can be challenging for internal comms and team morale who ultimately just need a platform that streamlines comms to make information more accessible and simple while at work.
Inefficient technology can cause communication barriers
Using platforms that have a similar look and feel to the services we use to communicate with friends and family does provide the benefits of speed and ease, but using platforms like WhatsApp can informalise workplace comms and blur the lines between work and the personal lives of employees.
It also has the potential to create generational divides in the workplace. Research shows, that nearly a third of millennials (31%) say that they use instant messaging at work every day, compared with only 12% of baby boomers.
The pandemic already forced teams to become increasingly disparate, which proved challenging as there was more important information being shared than ever before. Using social media platforms, such as WhatsApp, to share such information increases the chances that messages will get lost, ignored or misunderstood. What's more, the nature of these platforms can result in employees becoming overwhelmed by the constant notifications.
As we recover from the pandemic, employers and employees need to be certain that the information they are receiving is not just relevant to that persons work, but shared on a platform that is used exclusively for these purposes.
Engaging every part of your business
With many employees using multiple platforms for communication with colleagues, employers can't always be certain that the information they are sharing is reaching them, let alone that they are engaging with it.
So what is the solution? A centralised platform that can reach teams at their desk, at home, or while working in the field, in the style that suits them. - whether that's via an app, email or SMS. What's important is that there is one solution that is able to adapt to all team members working styles. This ensures the information is distributed to employees in a timely fashion and in their preferred communication style - instead of across multiple channels and formats.
Having a single tool where managers can monitor and identify which employees have engaged with the information (and more importantly those that haven't) can also help combat missed information. And it allows them to be targeted with their follow-ups, instead of blasting a single chaser to the entire company - which adds to inbox clutter.
The GDPR scare
Cybercrime is at an all-time high, with 34% of businesses hit last year. GDPR-compliant comms should be considered a top priority for businesses as we exit the pandemic.
Allowing teams to use social platforms for business comms is a GDPR disaster waiting to happen, and it could have a devastating impact on the company. Despite this, over 79% of business professionals are still using WhatsApp to communicate - a platform that has been heavily critised in the past for it's failure to protect its user's data privacy. From the smallest conversations with colleagues to sharing work documents via these apps, businesses and employees expose themselves to potential data threats.
Using a myriad of platforms for workplace comms not only impacts productivity, but it also opens opportunities for misuse, reputational damage and potential security threats.
As we exit the pandemic, businesses have the opportunity to re-think their internal comms strategy. Employees don't want to work across multiple channels or merge their personal and working lives, they want ease, simplicity and efficiency. Having a single platform that does this, by delivering engaging and targeted messages in a GDPR-client way, is how businesses can work most efficiently