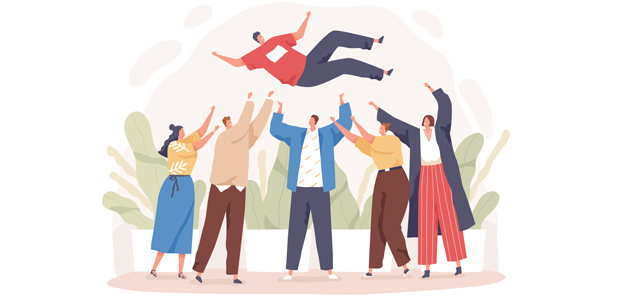 Why startups must stay positive and think big to survive the coronavirus crisis
The world has been turned upside down and shaken vigorously. Businesses are now scrambling to pick up the pieces and regain a handle on how they can push ahead during these difficult, uncertain times.
Indeed, it is during testing periods like these that people like to use the famous slogan 'Keep Calm and Carry On'. However, in the midst of the coronavirus pandemic, this phrase does not hold the answer. Here, Atul Bhakta, CEO, One World Express explains more on the matter.
From a business perspective, to simply 'carry on' and pretend it is 'business as normal' could do more damage than good. Things are, of course, very far from normal; businesses must adapt and innovate if they are to survive.
Be positive
It is of the utmost importance that business leaders adopt the right mindset if they are to tackle this crisis effectively. That might sound simplistic; clichéd, even. But it's not easy – the media bombards us with stories of tragic deaths, economies grinding to a halt and day-to-day life being disrupted in hitherto unseen ways.
But businesses must avoid the temptation to sit tight and hold on. Those steering these companies – whatever their size or sector – must embrace the challenge wholeheartedly.
Positively, entrepreneurs and business leaders tend to be optimistic people. It is a trait that will be more important than ever in the weeks ahead – not only will it help keep morale high, but it will also ensure that business does not stand still.
Look for solutions, quickly
Reflecting on my own experiences, since the founding One World Express in 1998 a number of seismic events have disrupted our business significantly. Indeed, in the last two decades our global logistics company has had to overcome the bursting of the dotcom bubble, the global financial crisis and the fallout from Brexit – each threatening to kill off our customers and our business.
However, during each of these incidents we consistently remained positive and proactive. The leadership team were determined not to be passive – we were going to act and make the best of the situation that we could.
In the case of the global financial crash, we invested heavily in our technology. From 2010 onwards we put software and data at the heart of our service proposition. Rather than relying on the more traditional logistics services, simply helping merchants gets goods from A to B, we created technology-led systems to help manage the entire process from sale to delivery.
This change injected fresh life into the company. It opened up new international markets for us by giving us more advanced solutions. And it enabled us to scale with bigger vendors who needed that extra level of IT support.
Brexit represented a very difficult challenge. When the EU referendum result was announced, our UK headquarters no longer held the same appeal to our global client-base, given we would soon be outside of the Single Market. So, we quickly took to setting up a new base in Germany to ensure we could still handle logistical operations coming in and out of the EU.
The underlying message is that it is of paramount importance that businesses adopt the right mindset. Moreover, they must see this challenge as an opportunity to strengthen the business. And they must act quickly.
Pivot as necessary
Pivot: this word is being used frequently at present, with businesses having to change their service proposition to meet the current climate. And when it comes to businesses who are selling physical goods – whether that is a large firm shipping bathroom tiles or a sole trader dealing in homemade honey – it is important they look at the bigger picture to see how they might best pivot. 
Supply chains are under strain. People are turning to online shopping. Delivery services are more important than ever. So, what does this mean for business?
As many of us will have seen within our own local communities, there has been a significant increase in the number of companies – particularly small independent merchants – needing to set up a distribution network so they can get their goods to customers.
Microbreweries cannot sell to pubs and bars so are now delivering beers straight to consumers. Cafés cannot serve customers but are now delivering ingredients and takeaway meals to locals. Garden centres cannot open but are now delivering compost, plants and seeds to all manner of customers.
If the produce is still there, it becomes a matter of finding new ways to get it to the people who will still pay. This pivot will take effort – for instance, online payment systems must be in place, as must order tracking software and the actual delivery networks. But the solutions are there for all these things, and they can be implemented quickly and affordably.
Think bigger, think global
As businesses consider how they can pivot and reach new markets, they ought to think bigger and take a more global perspective.
This is hugely important. At One World Express we often work with SMEs who think global trade is out of their reach when in fact it is firmly within their grasp. It can seem like a daunting step and business leaders may not know where to start. Yet in reality, just as I stated above, it is simple, affordable and can tilt the odds in your business' favour during this pandemic.
To help, One World Express is further bolstering the support it offers to its clients – we are waiving all of our consulting fees for the next three months (April, May and June 2020). This means we will be providing free advice to businesses who need help understanding how they can get their stock to different markets around the globe.
Let's take an example of how this might work. A dressmaker might have a small high street full of clothes she has crafted – they need to find ways to sell these online and keep cash coming in. Yes, the dressmaker could try sell to people in her local area, but with a bigger geographical reach they have the better chances of getting orders.
Using an online store, or going through channels such as Etsy or eBay, would provide the dressmaker with the right platform(s) to sell their garments successfully. And, if they can find the logistical support to do so, they could ship the dresses to anywhere in the world without needing to charge a prohibitively high delivery fee.
This is a very specific and simplified case. But it is also extremely common – small, local businesses should think be thinking bigger and consider building a more geographically diverse customer base, giving them an even better chance of boosting sales.
Ultimately, different countries and different markets are being affected by the pandemic in very different ways. Therefore, businesses that can expand their customer-base across territories have the best possible chance of not just surviving the COVID-19 storm, but actually flourishing in the coming months.
Do not just Keep Calm and Carry On; Keep Positive and Think Bigger.