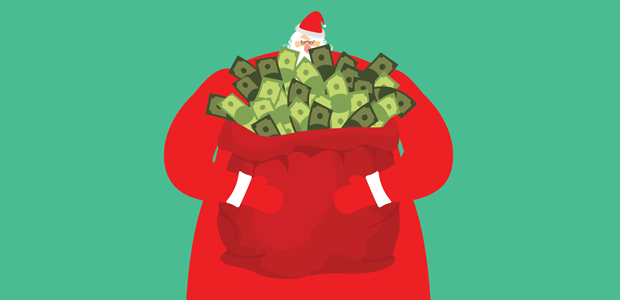 Why should SMEs be Christmas cashflow planning now?
Autumn is already upon us and the nights are drawing in - Christmas is only just round the corner. However, this isn't always a reason for small businesses to celebrate. The calendar year-end can often coincide with tricky cashflow gaps for smaller companies which can lead to some less than silent nights for business owners. Here are some tips on why it may be worth thinking ahead now and looking at company finances in advance, to avoid getting some unsightly lumps of coal in the company stocking instead of a winter celebration. 
Why does the calendar year-end cause issues? For many SMEs this can come down to a perfect storm of factors, all happening at once. Extended staff (and customer) holidays, higher overheads (the long overdue office party), combined with a typically slower period of trading for small businesses all occur at the same time as a series of bank holidays and most people looking forward to a long break. 
This means it is easy to lose track of unpaid invoices, or even face a lack of communication when companies are chasing payments. First Data found that some 23% of small businesses suffer from cashflow issues at Christmas as a result of these factors. When you add to this that half of the UK's SMEs are also much more likely to suffer from late payments at the best of times against the backdrop of pressing financial issues, SMEs could be facing the worst possible time of the year. 
The key to avoiding these issues piling up is active preparation, and that needs to start now. Seasoned businesses who have faced these issues previously may consider themselves forewarned, but that doesn't mean that they can't take a good look at their books and processes, investigate the forecasts for December and think about whether payments tend to be prompt or tardy. And if the company does frequently encounter late payers, or even just wants to stabilise their cashflows ahead of time, there are steps which can be taken. 
Liberate your cashflow
New options are emerging all the time which provide small business owners with fresh options of financing, increasingly already 'baked into' their existing digital bookkeeping platforms like Xero. Careful assessment of these new solutions with an accounting advisor may open fresh doors to businesses which did not exist previously to bridge financial gaps. For example, invoice financing is emerging as a flexible and valid option for businesses just seeking a little more liquidity. Platforms like AREX Markets don't tie businesses into lengthy contracts or unfavourable payment terms, instead making it easy to finance one or many invoices, often with cash returned in under 24 hours. Without recourse to them if their supplier does not pay. By looking beyond traditional banking providers, companies may find more flexible alternatives available which are better suited to their short term business needs. 
These options aren't just for Christmas of course, but they do provide valuable and often very welcome flexibility for small business owners who could otherwise face very tricky decisions at an important time of the year. Having a clearer picture of their cashflows now gives that extra benefit of time to plan ahead and make sure the right solutions have been scoped out for the business which can be turned on should the need arise. Fresh alternative finance options are constantly emerging, therefore, it pays to do due diligence into the varying terms and conditions well ahead of actually needing to activate them. A worse scenario than facing a cashflow crisis could be caused by businesses jumping into short-term financing contracts with providers who don't offer the best value back to the SME in need.    
So, while the festive period may still seem a long way off yet, with the right preparation, businesses can make sure they're not pushed into uncomfortable situations either with their finances, or by jumping into deals with the wrong options. With the right foresight, SMEs can ensure their Christmases are crackers, rather than having to deal with finance headaches.