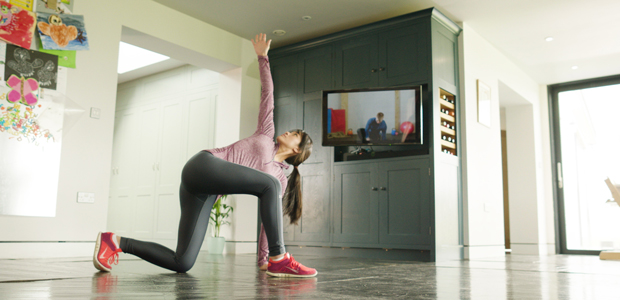 Why remote services in health and fitness will influence the future
When the UK government first told people to stay indoors and ordered gyms and clinics to close, it was hard to imagine how personal trainers, physiotherapists or coaches could survive. But sometimes difficult times can inspire innovation which shapes the future.
The industry needed, at the very least, to find a way to stay in contact with clients or patients. A way to monitor their progress, to keep them inspired and, of course, to retain their customers for the future.
It has been interesting to see how, in such a short space of time, so many have found ways to do exactly that.
Some have used social media to stay in touch and to send inspirational videos, inspired by the success of television fitness celebrities such as Joe Wicks whose daily lockdown routines made him a national figure.
Others have provided inspirational blogs, hosted webinars or organised online challenges for their clients.
Amplify Pro, a free online platform designed to give personal trainers, physios and coaches the ability to create and deliver fitness and recovery programmes remotely, was already in production when the pandemic arrived. But decided to move forward its launch to provide help when it was really needed - and the response has been remarkable.
The platform allows members to deliver bespoke wellness fitness programmes remotely, by curating a personal workout using a library of thousands of exercise video templates. Professionals can also upload their own videos through YouTube.
Some high profile names, including Rio Ferdinand's personal trainers Mel Dean and Mike Evans, are already members and have been willing to back the platform, with users telling us it will enhance their business in the long and well as short term.
The England & Wales Cricket Board (ECB) Coach Development Programme has added its own workouts, designed by Surrey CCC's Lead Strength & Conditioning Coach Darren Veness, to the library.
These were sent to cricket coaches of all levels below elite level, and then forwarded to junior and club cricketers in a bid to keep them fit and motivated at a time when they cannot play.
This is a system which has worked wonderfully in lockdown, but which will also provide huge benefits when face-to-face coaching, physio and fitness training return.
The days when personal trainers or physios set their client a fitness or recovery programme, sent them home and then waited for another appointment before being able to assess progress, are gone.
Suddenly, we are finding there are ways to communicate, monitor and assess between appointments.
Members on Amplify Pro, for instance, can monitor feedback which shows which clients or patients are completing exercises - and then target those most in need for extra information or inspiration.
The platform also allows professionals to monitor feedback on areas such as pain and progress.
For this reason, trainers, coaches, physios and educators are finding that not only can they deliver programmes without face to face meetings but they can also use the technology to stay in touch more often with clients, get to know them better, keep them motivated more easily and even improve results.
We see health and fitness as one of the biggest untapped markets when it comes to online platforms and social media, and there are plans for Amplify Pro to grow rapidly in future as more professionals and stars join the stable.
The feedback we've had so far is excellent. Not only is it a ray of hope in the current climate, but also a tool which is designed to enhance face-to-face practice once, as we all hope, coronavirus becomes a thing of the past.
The portal is free for the professional and for those following the regime, which is important in a world where businesses and individuals are watching their finances closely.
Exercise programmes are sent direct to service users by email and can then be viewed online. This is a very simple delivery process that makes it easy for the end user to access, too.
For Amplify, this is just the first step in an ambitious plan to disrupt the digital health sector, with further products to follow, and it's a sector which we believe will grow once out of lockdown.