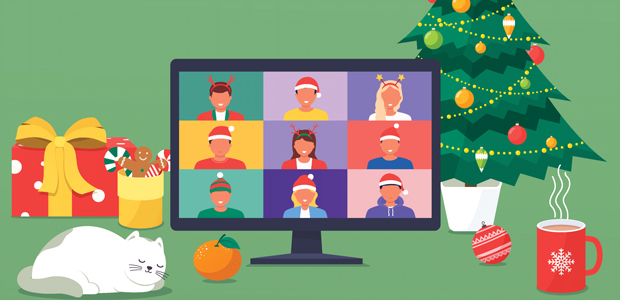 Why it's more important than ever to host a virtual Christmas party
The 2020 festive period is now in full swing. However, with the UK coming out of lockdown to tighter tier restrictions, it's fair to say Christmas will look different this year. A work Christmas party is often a great excuse to let your hair down and celebrate the festive season with your colleagues. After a year filled with lots of change, ups and downs and staying at home, now more than ever it is important to celebrate all we have achieved.
Here we share the top five reasons why it's more important than ever to host a virtual Christmas party.
Motivation
The stress of achieving set targets and meeting deadlines, combined with adjusting to remote working has impacted us all differently. Planning a celebration to look forward to at the end of the year, is a great way to boost motivation and make your team feel valued.
Staying connected
Most businesses have been working remotely since March this year which has left some employees feeling lonely or disconnected. In fact, [1]one in four adults have experienced feelings of loneliness since the peak of the pandemic in April.
Organising an end of year social event can help to bring colleagues together and prevent loneliness this festive season, especially for those employees that may be living alone. It's also a great excuse to have a laugh together!Lifting spirits
If – like many – you're still working from home, it can be hard to strike the right work-life balance, and this can take its toll on your wellbeing.[2]Since March, there has been an increase in the number of workplace mental health conditions such as burnout.
Taking time out of a busy work schedule to get together and celebrate the festive season is a good way to help lift spirits and team morale.
Celebration of achievements
Whilst festive celebrations may be different this year, a virtual Christmas party can be a great way to spread some festive cheer and recognise all the hard work you and your team have achieved in 2020.
Whilst our Christmas party may not be the usual meal, ball or gathering we're used to, it's still important to celebrate together, even if it is virtually. It is a great way to reward your team, and you can even get creative with your party. Why not host a virtual rewards evening or organise a secret Santa? It's something for you and your team to look forward as we come to the end of a difficult year.
Promoting company culture
Each organisation will have their own company culture and ways of celebrating. Whilst we have experienced lots of change this year it's important to continue Christmas traditions that reflects your business's unique culture.
This will be particularly helpful for employees that may have joined an organisation this year whilst working remotely to learn more about the organisation and build relationships with their colleagues and wider teams.
Whilst planning a virtual Christmas party this year, it is important to remember different team members like to socialise in different ways. Therefore, making sure your virtual celebrations take into consideration the personalities and needs of all your team will help this year's festive celebrations get off to a great start; as well as putting the anxieties that come with virtual celebrations, such as technological glitches and being on camera at ease.