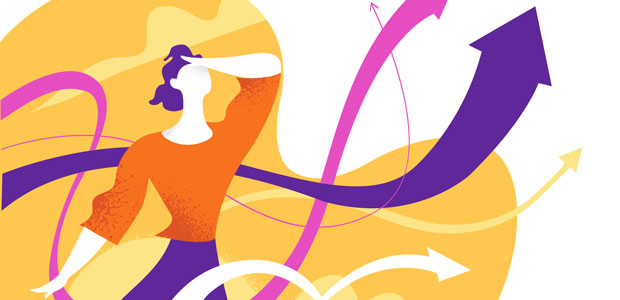 Why it's more important than ever to champion women startup founders just starting out
In this article, we speak to Natalia-Pawlak, COO of My Wardrobe HQ and Co-founder of My Ventures.
My Wardrobe HQ is the consumer facing side of the luxury rental and resell platform. It launched in 2019 and then the pandemic hit, and they were glad that they had the resell option for items as that sustained the business throughout the pandemic. My Wardrobe HQ is part of the sharing economy and seek to help brands and retailers achieve more by utilising the huge benefits of the rental and circular fashion model market.
During COVID-19 many retailers and brands were badly affected by store closures and huge drop in revenue as people didn't go out or purchase clothes. The company offers many opportunities to help consumers engage with their brands in new ways - by renting, hiring and returning or reselling second hand.
My Ventures is a platform as a service and it allows brands and retailers to offer rental and resale capabilities for their customers, website management, order management, integration with existing fulfilment partners and all the complex activities that happen on reverse logistics.
The rental and resell model has many more logistical touch-points than a traditional purchasing model - as well as delivering there is the cleaning, repairing and retouching elements as well as a dynamic pricing capability which reduces the price following the wear incurred by each use.
They have pricing capabilities based on market value so are offering retailers and brands the chance to take ownership of the pricing. They are allowing the customer to have the brands experience, as they get an interaction to the brand that they wouldn't have if they couldn't afford to purchase the product outright.
Natalia has come from a male dominated industry and has had many male mentors, and have thrived under male leadership but says it is the key female mentors in the last couple of years of that have really pushed her to excel. She came from 5 years at Quantus and Samsung Electronics and these experiences have driven her to realise that she is a firm believer in 'we are better together.'
1) You are from Australia but now live in the UK. What would you say are some of the cultural differences between these two places, and did it impact your career?
Since arriving in the UK, I've solely worked within startup environments as opposed to my past life in Australia working for corporate multinational organisations so I can't fairly compare the organisational culture. I can however, wholeheartedly say that I have been blown away by the genuine interest, engagement and peer-to-peer interactions I've had across a really diverse group of people. Everyone I've engaged with here, whether they're CEOs, VCs, clients or potential investors, has been so approachable.
The market is smaller back home so it's more competitive - I am a huge believer in "we're better together" and have been really lucky to have also built great relationships with some of our competitors which I never really even thought was possible. There's a lot of mutual respect in our space - I'm in awe of what we're all achieving, and it adds an additional reason to get out of bed in the morning.
2) Tell us about My Wardrobe HQ and My Ventures which you founded in April this year?
My Wardrobe HQ is the UK's #1 luxury fashion rental and resale platform and was founded by Tina Lake and Sacha Newall who are two of the most incredible women I've ever met. The business officially launched in December 2019 at the British Fashion Awards where we introduced ourselves to the market and dressed 50 high profile sustainability advocates and influencers in rental - the noise and press from our launch was priceless and definitely made people sit up and take notice.
We're here to democratise luxury fashion and our customers, brand partners and individual owners are so passionate about this. Our ethos is very much about access over ownership. Production represents such a huge part of the damage that the industry causes to the planet - we've found a way to reduce this impact while also educating our community on how to monetise their wardrobes and investment pieces.
MY WARDROBE HQ was, and is, designed to reduce the impact our industry has on the environment and future generations by providing brands and retailers with sustainable aftersales solutions while also driving profitability. The economic impacts of the pandemic period expedited changes in consumer behaviour and subsequently there was a need for brands and retailers to find creative ways to deal with excess stock, repaying suppliers and dealing with a 45% drop in consumer spending within retail - there was no quick fix in the fashion or tech industry and that's how MY VENTURES was born.
Our brands and retail partners are at the heart of everything we build whether it's technology or our operational capabilities - recommerce is still such a new concept and single SKU reverse logistics management is extremely costly and resource heavy if you don't have the experience. We've been doing this across a variety of industries and countries for over a decade so we understand the complexities - we're focused on delivering simple, quick and agile integrated technology and operational solutions for our clients so they can activate rental, resale, subscription or peer-to-peer marketplace communities quickly and efficiently. Resale is forecasted to outgrow fast fashion within a decade and has a growth rate 25x that of retail. Our resale capabilities also allow our clients to realise recurring revenue that they never saw before - we're essentially enabling them to sell their product twice!
3) Do you hope My Wardrobe HQ will help revolutionise the way people shop for and interact with fashion brands?
Absolutely. Consumer behaviour has shifted dramatically over the last 18 months. A lack of job security and the subsequent loss of income due to the pandemic period suddenly became a devastating and confronting reality. Our mindset has changed, and the pandemic period really made people stop and revisit what they valued - this shift in behaviour saw a 45% decrease in retail spend YoY 2019-20.
Many people started to realise their unnecessary levels of consumption and the rate of wear from their previous purchases - in 2019, UK shoppers were estimated to have spent £2.7 billion on clothes they only wore once. And that goes back to the idea of access over ownership - I can wear beautifully handcrafted designer pieces for a week for less than 10% of the original RRP through MWHQ and get the opportunity to rotate my wardrobe yet still reduce environmental impact. Brands must keep up - consumers are now demanding circularity. Rental and resale is no longer a dirty word - it's a reality.
4) Could you tell us a bit about your background and how your formative years led to you founding My Ventures and becoming COO of My Wardrobe HQ?
I started working in my pre-teen years doing dishes in cafes and restaurants so had an early start. At 17, I failed my final year at high school and spent the next decade in hospitality while my friends were becoming lawyers and journalists. I have so much respect for people coming from hospitality and retail trying to get 'office jobs' though! It's hard work and people can really underestimate the transferable skills. My experiences really framed my work ethic and tireless approach to solving any problem.
I finally managed to crack my first office job as a receptionist and moved into an EA role the following year - you build such amazing genuine relationships with your managers as an EA and at Qantas, I was given an amazing opportunity to support the launch of the first ever ecommerce proposition the airline had launched. That role taught me everything about how things work - supply chain processes, product management, customer service and ecommerce.
After 6 years, I moved over to Samsung's mobile division to help launch the first B2C platform within Asia Pacific and over the next 5 years totally engrossed myself in the beautiful world of data and technology. I became truly fascinated in how technology enables us to understand consumer behaviour - this led me to launching the business's first holistic multi-channel retention strategy which was shared and referenced globally.
Two years ago I moved to the UK and spent a year working at a startup that was focused on digitising the power of women's advocacy which was really interesting - think of the modern day Avon model. Women have an enormous impact on purchasing decisions within the household and that layered with our natural understanding and trust of each other is an extremely powerful marketing channel.
During that period I was introduced to Sacha, MWHQ's CEO and Co-Founder and joined MWHQ as COO right smack bang in the middle of the pandemic. 8 months later, Tina, Sacha and I co-founded MY VENTURES and onboarded 3 clients within 20 days. I am humbled to be working with these women - we come from different and diverse backgrounds and complement each other when it comes to driving success for both businesses. I never thought I'd be co-founding a tech startup in London 2, let alone 10 years ago… It's been a dream working with inspiring, strong women all while we're building ground-breaking tech to try to save the world.
5) You are a strong advocate of women supporting women in business, can you tell us about some inspiring women who have helped you or mentored you in your career?
I have been so lucky to have crossed paths with some seriously inspiring women - My GM at Qantas Kylie Little helped me understand my strengths and capabilities by introducing me to the concept of autonomy! Most recently of course Sacha and Tina who both passionately, relentlessly and tirelessly work to grow something that is truly going to save the world - it's hard not to be inspired on the daily. I have never seen the level of growth that I have in the last 14 months while I've been at MWHQ.
From the Prime Minister's wife wearing our rental and sending us global, to launching rental for the number 1 luxury retailer in the world Harrods to creating a technology company… It's insane. I am also incredibly privileged to have an amazing group of women around me who I have been friends with, some for more than 20 years - we are each other's biggest champions, and I am consistently blown away by my best friends who are pioneers in their respective industries - some while juggling babies and their careers. I also have an incredible team at MWHQ - they are young, hungry and incredibly intuitive - I cannot wait to see what success the future brings for them.
6) Do you have any 'tips for success' or learnings from your experience in achieving funding that you could pass on to early-stage startup founders regarding obtaining investment?
Use your network and don't be afraid to share your future plans and ambitions for success. As women we notoriously play down our aspirations and successes… this is so detrimental. Own your wins - people are investing in you as well as your business so confidence is key - don't sell yourself short.
You also want to align yourself with people that share your core ethos and understand the 'why' of your business - investors are there to financially support you but ideally also to share their expertise and networks - they want your business to succeed as much as you do so leverage them as much as you can!
7) What were some of the challenges you faced as a woman entrepreneur?
To be brutally honest - it's always been my own perception of how I'm perceived that's held me back. I have had some incredible male mentors that never made me feel like I was different or disadvantaged to them. That's not to say I haven't been dismissed due to my gender - my favourite so far is "girls can't do tech" and "women can't sell SaaS".
We launched MY VENTURES and signed 3 respected brands within 20 days and recently a very large well-known retailer (that is currently under embargo but stay tuned!) Proving the naysayers wrong is the best response!
8) Tell us what that means to you to be nominated for the

InspiringFifty

Awards?
This nomination is truly my personal and professional peak milestone. To be considered for this award is such a humbling experience especially when you see who has been awarded in the past. The women that have been nominated and awarded for the InspiringFifty are, gender aside, the innovators, ground-breakers and pioneers of their fields. I am so grateful to have the opportunity to sit alongside these women and continue challenging gender norms for the next generation of women in our fields.
9) Who are your business idols, people that you admire and respect for their achievements in business?
I've always keenly followed and idolised Whitney Wolfe (Bumble Founder and CEO) and Sara Blakely (Spanx Founder and CEO). Whitney was only 31 and with a small child (!) when Bumble IPO'd making her the youngest woman to take a company public… Whitney's work "bro-culture" experiences at Tinder were the reason she started Bumble which makes her success even more impressive.
Sara Blakely's journey of founding Spanx is also inspiring and motivating. Her start very much came from door-knocking and her business idea was rejected multiple times before she found success… this tireless and relentless work ethic totally resonates with me and even after success, she's approachable and real in interviews and her social media. She constantly advocates and supports women in business no matter where they are in their entrepreneurial journey and her lack of ego makes her voice believable and is extremely motivating.
10) What would you say to your younger self now if you could give two pieces of advice?
Firstly, don't think you're a failure just because you haven't followed the typical path. Secondly, it's ok not to know what you want to be when you grow up! I still don't know what I want to be when I grow up, even at 35! We're brought up with the idea that we should be in a particular job or personal milestone by a particular age - those motivations are misguided and are unnecessary pressures, we're already stressed enough with home, family, work as it is. Get your hands dirty and learn as much as you can about all facets of a business - a good work ethic brings respect and that opens doors that no degree in the world can give you access to.
Natalia Pawlak, COO My Wardrobe HQ and founder of My Ventures has been nominated for one of the InspiringFifty awards. InspiringFifty is an initiative run by accelerateHER that aims to increase diversity in tech by making female role models more visible. The winners of the InspiringFifty awards will be announced on Monday 20th September 2021 at London Tech Week.