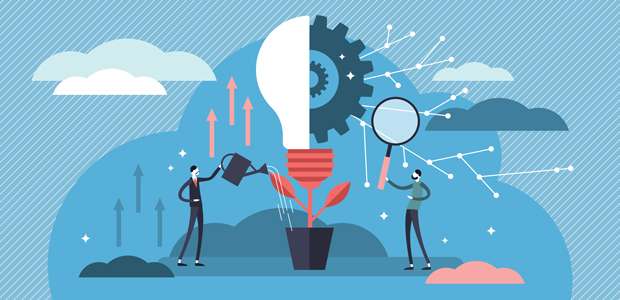 Why innovating for tomorrow must start today
The market for startups these days is red-hot. According to PitchBook Data Inc, in the US alone the venture industry raised $73.6bn in 2020, well above the previous high of $68.1bn set in 2018.
But while the soaring number of deals and influx of capital are great to see, it's only one piece of the puzzle for today's technology startups. Funding is just the beginning; a startup's long-term success is often directly linked to its ability to innovate. But, in order to adapt its products and services to the changing needs of its customers, startups can't innovate just for today's status quo. They need to keep future developments and trends in mind, taking a closer look at how emerging technologies such as AI and 5G can influence their offering.
What does this mean? It means developing processes to ensure continuous successful innovation, ensuring the startup meets the customer needs of tomorrow, and internalising a philosophy that embraces constant change. It also means embracing the notion that a startup can't do it alone in an increasingly complicated and competitive business environment.
Take for instance, artificial intelligence (AI) and machine learning (ML). Until recently, much of this technology relied on the scale of the cloud to compute data captured at the edge and endpoints. But the relentless improvements in device and system design have led to pushing more and more of this – especially ML algorithms – to the edge. This is where the data is. Expanding compute capabilities here improves time-to-results and accuracy, while also strengthening privacy and security.
Designing for the status quo would result in solutions geared exclusively toward cloud computing, but, as I mentioned earlier, thinking into the future can enable startups to innovate products that exploit this meta-trend toward edge and endpoint computing. This is not to dismiss cloud computing at all; indeed the scale and power of the cloud continues to transform businesses far downstream. But for many startups looking for new and potentially disruptive opportunities, a world in which the cloud and edge work together harmoniously and seamlessly is a key goal.
One example of this seamlessness will come from 5G cellular, which will transform, among many other things, this distributed-compute paradigm.
"5G is bringing cloud to the edge," said Adil Kidwai, head of product management, EdgeQ, speaking on a recent Arm Startup Day panel session. "So there is no need for the data to go to the cloud somewhere, 20 miles from where the data is generated, in a data center. It should be operated and worked on at the edge. We see a lot of opportunities."
Simplifying complexity
So, the opportunities are abundant. The challenge, however, lies in what can seem like a breathtaking complexity, from hardware and software design and implementation to testing and manufacturing. Often it seems like the idea – the startup's disruptive concept – is the easy part, but implementing that vision in a way that meets cost and schedule targets and beats competitors to market is a major issue.
PragmatIC Semiconductor, which designs low-cost, flexible integrated circuits, is one such company that sits at the leading edge of development and has a front-row seat to today's challenges. Alastair Hanlon, PragmatIC's chief commercial officer, notes that, for hardware focused entrants, traditional startup challenges are today exacerbated by the global semiconductor shortage.
"We do get approached by a lot of startups who are struggling to get access to foundries and get enough silicon with a global shortage in chips," he said. "One of the key reasons that startups work with us is because of the quick turnaround that they can have, from design to production. So we can take a design and manufacture it within just a couple of weeks."
He added that PragmatIC's technology also offers a startup the ability to scale quickly to volume at very low costs.
"We're helping to address the global shortage in chips by giving startups an opportunity to work in a new flexible technology platform," he said.
Cost and flexibility are key considerations, especially for startups working to bridge the digital divide around the world, such as Jangala, a UK-based company that delivers internet to communities in underserved parts of the world.
Wanted: Access, flexibility
"For us to be able to innovate in the ways that we do, we need to have access to the technology at our fingertips in the context in which that innovation is needed," said Rich Thanki, Jangala's founder and head of technology. "That is supremely important."
The good news is that silicon designers now have access to new and more flexible IP-access programs, like Arm Flexible Access for Startups, that enable early stage startups to test their ideas and create prototype silicon without any fees due to Arm.  This allows them to innovate whilst minimising risk and upfront investment.
Another consideration is removing that long-standing wall between hardware design and software development.
"Redistributing compute does give you some other options. But the challenge for startups that want to take advantage of that opportunity around Edge AI is they need to start developing hardware and software together and overcoming the kind of codesign problems that come with that," said Michal Gabrielczyk, head of Edge AI, Cambridge Consultants, who participated on the panel. "They also need to address the challenges of optimising for lots of objectives that they might not have considered before."
A traditional embedded designer, for instance, might focus on power, performance, and latency. But those concerns change significantly when one designs ML solutions for IoT applications.
"Teams need to think really carefully about what is it they want to achieve and really optimise for that," Gabrielczyk said. They also need to leave room for flexibility because situations can change during the development process. "IoT is an infrastructure play just as much as it is a compute play," he added.
Security is also a crucial consideration in all aspects of the electronics ecosystem. Formerly security was very much a throw-it-over-the-wall-type exercise as part of product and solution development. But as cybercrime headlines have multiplied, the industry has quickly come together to come up with more holistic solutions. From the IP- and device-level compartmentalisation, through to attestation to certification of devices and systems run by independent third-party organisations, through to industry-government collaborations to improve security.
A recent report from PSA Certified, 'Bridging the Gap,' shows that while 90% of technology decision makers believe IoT security to be important to their company, they're also concerned about the leverage of security expertise within their organisations and fewer than half carry out threat modeling as part of their design process.
But the good news is the technology industry is not standing idly by. In fact it's rallying together to innovate new and stronger security features from the IP level all the way through devices and systems, from hardware to software.
Mobilise, simplify, monetise
The evolution of the IoT has been both quick and profound, moving from simple instrumentation at the edge and interface of the analog world to integrating connectivity among various sensing devices to where we are today: intelligence. Intelligence is about delivering on the promise of the IoT and continuing to enable businesses to extract the maximum value from it.
How do we do that? By focusing on three key areas: mobilisation, simplification and monetisation.
With mobilisation, companies can embrace new technologies and partnerships to enable nimbler, faster innovation.  By leveraging their diverse expertise, we can simplify and accelerate the design and development process for the entire ecosystem, from silicon providers all the way through OEMs and service providers. This leads to a better ROI for everyone.
Better monetisation for everyone, in turn creates a broader base for innovation, attracting even more investment and establishing a virtuous cycle of growth and improved ROI, the best kind of network effect.
Tomorrow starts today
Startups need to remember they're not alone nor should they be. As Gabrielczyk pointed out on the panel session, "None of these complex products or services can exist on its own. It's totally inefficient to do that. If we can be clear about what we want to do  – what our role is – we can find partnerships to get to that goal. It's about co-creating ecosystems."
A solutions approach that leverages a global technology ecosystem with a wide range of expertise can cut years off IoT development cycles, reduce risk, speed time to market and improve investment leverage. That means better ROI which will attract more innovation and kickstart an amazingly virtuous productivity cycle.
That's how startups can start innovating tomorrow right now.