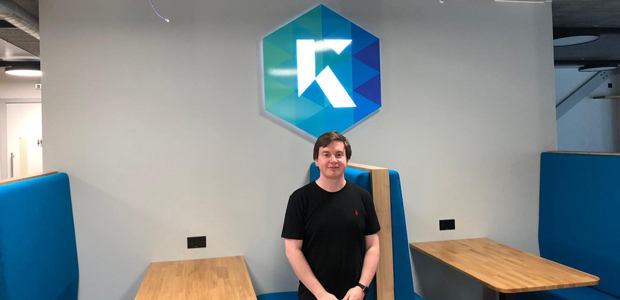 Why CEO plans to leave the office behind in 2020
With recent news showing the British economy shrunk by 20.4% in April, several business owners are concerned about whether their businesses will recover and what the 'new normal' will look like. Here we chat to Pete Reis-Campbell, CEO and Founder of Kaizen, who discusses how he navigated the pandemic why remote working is the future for many companies.  
What has an office move been like during COVID-19?
It's been difficult, almost very surreal. We were planning to move into our new office in May, due to our old office's contract ending. Luckily, just before the lockdown, we were able to find a space that reflected our growing team but just before the renovation was planning to commence, COVID-19 delayed work and we were unable to move into our new office. It felt strange, as I had to put everything into storage, had to register the office to my home address, and I had thoughts that if COVID-19 negatively impacted the business we wouldn't be moving back into an office space at all and that I'd be back at square one again.
What impacts have you seen on the business whilst it's been completely remote?
I've found it a lot harder to manage productivity and efficiency, especially with less face-to-face meetings it has been harder to collaborate despite all of the online tech and tools available. However, we have been able to get work done and keep the business running, which is a huge testament to the team. We've also had time to streamline several processes and change things we've wanted to address over the years. With this time, it means the change hasn't been aggressive or disruptive, as people have been more open to change. Ultimately, I was worried about us as a business, and making the right decisions - not only were these decisions difficult, but they were also essential to keep us afloat. This ranged from cutting costs, streamlining the organisation's structure, making the most of capacity and resources, but also making use of government aid such as the furlough scheme.
What are your thoughts on remote working?
It has made us the realise the importance of hiring and employees, as a business owner you need people that are proactive, passionate, respectful, and willing to collaborate. I was worried about tracking and monitoring our employees, as it felt excessive and controlling, so I decided against them. If you hire the right people, you will always have a productive workforce. Whilst we've found it harder to be collaborative and creative, we're looking at ways we can get better at it. 
What do you like about having an office?
Having a space to collaborate, meet with clients, and make group decisions is important, and I think we've missed that during this time. It also helps those who don't have a productive environment at home - if it's too noisy or too small to work in. During this time, an office seems like a Draconian concept to me now, and so that's why I've decided to move towards a hybrid model for working from home. Meaning employees can come into the office when they want, work from home when they want, or use coworking spaces if they'd like to. This means as a business, we still have a place to be social, collaborate, and see each other but now everyone is also autonomous and independent in the way they'd like to approach work.
How did COVID-19 change your perspective as a CEO?
Overall, it was terrifying as I was worried about losing the business and had no idea what the future would look like. I decided to arm myself as best as I could, I asked for advice, I started reading, crisis management, and planning for the future. No one is motivated by making difficult decisions and cutting costs - but if I didn't make these decisions, things would spiral out of control and the long-term would have been worse.
After comparing our year on year results, this might be the first year where we don't see growth and that can stifle motivation. However, what made me turn the corner was seeing our team putting in 120% effort, asking me about my mental health - it was just me going through this difficult time, everybody was. Fortunately, we're starting to see an uplift and now we're able to start hiring again and move into the next part of our business plan. As CEO, this time opened my eyes to the flaws and how we should conduct ourselves in the future.
Pete's top 3 tips on working from home:
1.Have a shower and get dressed
This might be a no brainer for some, but the idea of staying at home might make it feel easier to not get ready for the day as we usually would. It's important to establish that routine, so getting up, having a shower, and sitting upright can make all the difference.
2.Get the right desk set up
I've created a desk space that makes me happy, I play PlayStation at lunch which is something I'd never usually get to do or think about doing. At the end of each day, I put all my office equipment away - it's important to restore the concept of home and home at this time.
3.Do what makes you happy, and then invest in it 
Being at home means we have a lot more time to engage with the things we love. Growing up, I wanted to create video games, and this has meant I've been able to spend a lot more time playing them but also learning video game creation. This time has allowed me to get back to the grassroots of why I wanted to create content, and also learn and teach those around me.