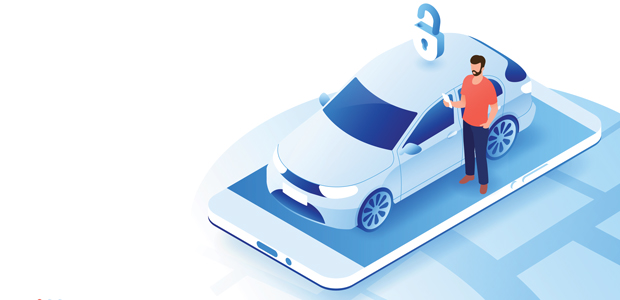 Why car-sharing means fewer cars and better cities
Global car-sharing startup Getaround has already removed 10,000 cars from the streets of Paris. Could your city be next?
In October 2020, the deputy mayor of Paris announced the city's ambition to get rid of 70,000 of the 140,000 parking spots on the streets of Paris, reclaiming approximately 65 hectares of space. It's a bold move that makes a strong statement: cars should no longer dominate our city streets.
The sentiment of the goal is absolutely right, especially considering half of the public space in Paris is used solely for cars. But it would be too simplistic to believe that we need to get rid of all cars completely. There's a way to achieve the goal of bringing fresh air to cities and freeing up more public space while still providing people with the comfort and convenience that a car offers. 
Cars aren't the problem -

too many private cars

are
One of the biggest challenges facing cities today is the overwhelming amount of space taken up by private vehicles -- cars owned by individuals are used only 5% of the time and remain parked the other 95%, taking up valuable street space in already heavily congested areas.
But many people still rely on cars, either in their daily lives or occasionally. A car affords a level of convenience, flexibility, and reliability that can't be completely replaced by mass transportation options like trains, or smaller vehicles like bicycles.
The solution, therefore, isn't to get rid of cars completely - but to replace idle private cars with highly-used shared ones. 
That's where car-sharing comes in. The startup Getaround (previously known as Drivy in Europe) is a tech-powered car-sharing marketplace that facilitates car rentals amongst those in the community. Unlike traditional car rental or other car-sharing companies that own fleets of cars, Getaround doesn't have its own cars. Rather, it connects those who have cars with those who need them temporarily, making better use of existing supply. If you own a car, you can rent it out to make some extra income. If you need a car, you'll always have access to one nearby for an affordable price. 
With its contactless app-unlock technology Getaround Connect, you use your smartphone to unlock the car, removing the need to meet someone to collect the keys. You're fully autonomous, and can take the car at any time, 24/7, for as long as you need it for -- which is basically like having your own car, without the burdens of ownership like maintenance, insurance, and parking payments. 
Fewer cars, better cities 
Not only is car-sharing more convenient than owning a car, it's better for our cities, too. 
In November 2019, a study conducted by 6-t consultancy on behalf of the French Environment and Energy Management Agency (ADEME for short) concluded that just one shared Getaround Connect car can replace more than 4 private cars. 
It also reported that 14.3% of users had given up their own private car as a direct result of using Getaround (not including users who gave up their cars for multiple reasons, with Getaround being one of them), which proves that car-sharing is a viable alternative to ownership. 
With over 65,000 unique users in Paris since 2017, Getaround has effectively taken almost 10,000 cars off the streets of Paris. Not to mention the impact it has on countless other users who never even considered owning a car because this car-sharing service exists.
The same ADEME study also analysed the savings in kilometres travelled as a result of reducing private car ownership, thanks to round-trip car-sharing. The study's most optimistic estimate found that each Getaround Connect car saves up to 13,000 km annually. Adding up the total fleet in France, Getaround helps reduce the total distance driven by more than 60 million kilometres per year. 
That's a lot of CO2 emissions that aren't polluting our cities, thanks to Getaround.
The ideal use for street parking
In a partnership with the city of Paris since late 2018, Getaround was allocated several on-street parking stations around the city for Getaround Connect cars. With their high visibility and easy accessibility, the cars on these dedicated spots are some of the most shared cars on the platform.
For a car-sharing user, renting a Getaround Connect car with its own parking space on the street feels as easy and convenient as renting a shared bicycle or electric kick-scooter: "If I see it, I can rent it." They only need to book the car on the app, then unlock the car with their phone - and off they go. No time or effort wasted.
The very presence of these dedicated parking stations on city streets serves as a constant reminder to the community at large that car-sharing is a viable transportation option. In fact, more than 30% of car-sharing users first learned about the concept by seeing a parking station dedicated to car-sharing on their street. 
The more evident it becomes that the city supports car-sharing, the more people will consider sharing cars rather than needing to own one. Car-sharing is no longer a far-fetched concept: it's a reality that's becoming as ubiquitous as shared bikes and scooters.
The next step for real change
Overall, the ADEME study and other supporting data are strong indicators that round-trip car-sharing - and especially, car-sharing with Getaround - contributes to demotorisation, helping to reduce private car ownership and the total number of cars on the streets. And we've already seen how this has a positive impact on cities and quality of life. 
But for car-sharing to become a truly viable mobility solution in the coming years, it needs to become part of the city landscape and stay ingrained in the minds of citizens - shared cars parked in dedicated spots on the street could do just that. 
With partnerships already established with the cities of Brussels and Marseilles for on-street parking stations, and continuing discussions with the city of Paris, Bordeaux, Nice, and other European cities of varying sizes, Getaround could be part of your cityscape soon enough.