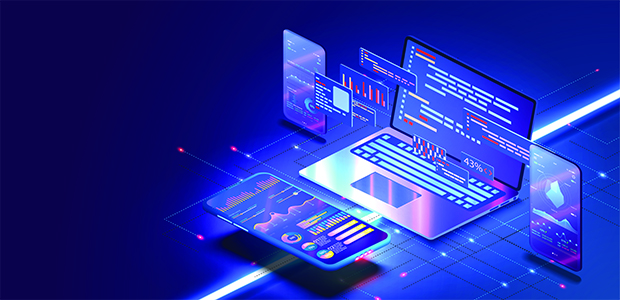 Why Bespoke Software Development Will Give Your Startup the Edge
In today's technology powered world, the management of businesses across every industry, no matter how big or small, is heavily reliant on digital platforms and software development.
Digital transformation is taking the world by storm, with no sign of slowing up anytime soon. However, understanding how to create and manage a software system that is suitable for your enterprise, especially a startup, is crucial in this digital age. Naturally, you want to stand out from the crowd and have your services presented in a highly professional manner. In this respect, it may seem like an off-the-shelf software system is the perfect resolution for you. They may appear all-singing all-dancing, but do not always cut the mustard. Your startup is your baby; you want to nurture it and provide the best possible outcomes for your business. However, one size does not fit all and this applies to pre-existing enterprise software solutions. They have not been designed and molded around the specific needs and requirements of your business and will not offer the same agility as bespoke software development. This article will explore the advantages bespoke software development will generate for your startup and guide you on creating the right software solution for your business.
Tailor-Made
Ready-made software solutions often come hand-in-hand with many unnecessary features that your startup may not require or utilise. You may also desire additional features to be incorporated into the software system, to enable your business to run as proficiently as possible. However, add-ons may not be possible, or come at a considerable price when working with off-the-shelf software. Relying on a software system that can't be adapted to the changing needs of a growing business, like yours, will simply become a burden and an expensive one at that. Bespoke software solutions are designed and crafted to meet the precise requirements and specifications of your enterprise. You wouldn't wear a pair of shoes that didn't fit properly – the same applies to the software solution you  use to run your business operations. Implementing bespoke software development into your startup will cement the inclusion of all the features and interactions you desire your dream software product to consist of and inevitability, help your business to succeed. A custom made software system will provide an increase in overall efficiency, productivity, reduce the waste of key resources, enhance customer relationships and in turn, create a better turnover of profit. Every business has unique problems that need to be solved; a bespoke software solution will help you accomplish and overcome challenges in the most efficient way.
Scale with Ease
You have just begun your enterprise journey by launching your startup and naturally, it is likely to grow in both size and potential in no time at all. A bespoke software solution will allow the venture of endless possibilities and updates to be made, opposed to an off-the-shelf system, which will be incredibly limited in its capabilities. Ready-made software solutions are designed to fit to the basic needs of businesses, instead of catering to their specific demands. They will not be able to fluidly adapt and evolve with your startup as it expands; with success come more requirements. Consider the progression of your business when you contemplate your ideal software solution. What will it need to look like, how will it need to function and perform and what possible features will it need in the not too distant future? A bespoke software service that has been crafted by a highly skilled team of software developers will have the ability to be easily scaled in size as your startup develops. A software solution that is uniquely yours will offer a much more cost-effective resolution and be entirely editable to your startup's conditions. Working alongside a bespoke software company will allow complete visibility of your projects progression, involving you at every step of the way.
Specialist Support
You will often become entangled within the terms and conditions of an off-the-shelf software system. This would not be an ideal scenario for your startup; you don't want any unnecessary red tape, especially when you're just getting started. If a ready-made piece of software undergoes an update that is not relevant to your business requirements or becomes completely discontinued, this will cause a whole range of costly problems for you. You would potentially have to find a new provider and possibly start from scratch. This can easily be avoided by having a bespoke software solution developed for your startup. Custom software can be accessed and used for as long as it is needed, with a software developer behind the scenes, who would be available for assistance and support, as and when it is required. This service would not be offered by an off-the-shelf software provider, leaving you reliant on a service that cannot be altered around your startup. Your software product should be able to adapt around your business, not you around it. A bespoke software company would be able to cultivate and a help your software solution to evolve, protecting your investment and giving you added peace of mind. 
Heightened Security
A lack of security can be detrimental and drastically affect the running of your startup. Because ready-made software is designed for a wider field and not one end user, it is more susceptible to hackers and cyber-attacks. Some businesses never recover from the impact of a cyber attack and small businesses are particularly susceptible to them. Bespoke software development is less likely to be targeted for attacks and will often have extra security precautions in place. As they are not publicly available, custom software solutions will typically have special security codes and encryptions implemented and will provide comprehensive cyber assessments. These features will not only strengthen the structure of your data safety, but reinforce the integrity of your startup's security management.
Sidenote
Consumers and users expect a seamless experience to be provided by a service, whilst have the ability to perform a ask in the simplest way possible. The same will apply to your employees; this will affect how resources are utilised and allocated within your startup. Off-the-shelf software may be easy to use and appear the most convenient option, but it can often become complex and not take into consideration the end needs of clients, causing more hinderances than needed. Bespoke software development will revolutionise the way you do business.