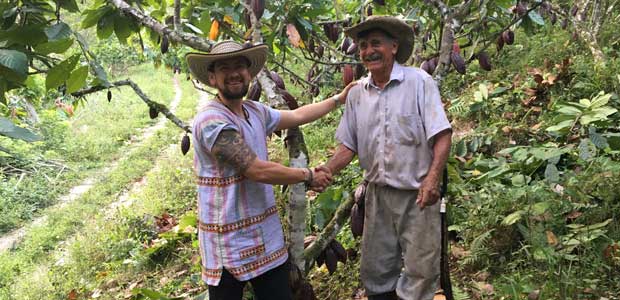 Where are they now - Choco4Peace
As you can imagine, here at Startups Magazine HQ, we speak to an awful lot of early-stage businesses. Every so often however, one really stands out and lingers long in the memory.
One such company is Choco4Peace, a startup that harnesses the power of Blockchain technology to support vulnerable Colombian farmers to improve their lives by finding markets for their cacao (the crop that is the primary ingredient for chocolate), allowing them to escape poverty and conflict.
I first spoke to Matt Whiteman, the company's Partnership and Growth Director, at the Blockercon conference in Bristol in 2019. Since then, the startup has continued its mission and was also the winner of the Social Impact Hero award at our very own Hustle Awards in the summer of 2020. I caught up with Matt, and Sergio Figueredo, two of the co-founders, to find out the latest.
Patience
Whilst looking back on what can only be described as a tumultuous 2020, Sergio placed the emphasis on two words - patience and resilience. Almost everybody in the world right now has had to exude an element of patience during the COVID-19 crisis. Plans have been put on hold and most of us have had to just sit tight and ride out the storm. However, Sergio stressed that, for Choco4Peace, it is not about waiting to see what will happen, but what you do while you're waiting.
"In 2020 we consolidated ourselves internally," he said. "We did a lot of work on internal processes and procedures and tried to learn about what the new world and the new normal will look like - and change our business plan accordingly."
Part of this planning strategy involved the company conducting several research studies with North American universities like Indiana University in the US, and McGill and Concordia University in Choco4Peace's home base of Montreal.
These studies looked at the fragmented economic system that currently exists, and at how the supply chain and consumption will change, but also the difference for investors and consumers - how we will express social return on investment (SROI)?
"We also had approximately 45 people (advisors and high-profile individuals) that came to support Choco4Peace on a pro-bono basis. People who were going through their own COVID-related problems, but who still wanted to donate time to our cause," Sergio added.
"When the crisis struck our research priorities had to change," continued Matt. "We shifted more towards chocolate sales happening online. So we looked at the best way to incorporate an e-commerce strategy, and how to market it properly."
Resilience
As for resilience, Choco4Peace has changed its business and financial models, established a sales team, upgraded its chocolate and materials, and created a new portfolio to help with fundraising. Sergio joked: "We feel like we're putting our gloves on and getting into the ring with Mike Tyson - we know that it is never going to go to plan, but we are still prepared.
"For the first quarter of 2021, my objective is to meet with investors to show them the work we've been doing in Colombia and how we can scale it up under difficult circumstances. We love chocolate, but it is not our end goal, it is our messenger, and the bottom line of our entire story is that our producers in Colombia need digital technology, adapted for their literacy skills, with a UX that works for them, and allows them to transform into successful digitised entrepreneurs.
"And by doing that, we will have a digital story that shows chocolate makers and investors the impact that they can have with their money, which can be fully traced with the support of technologies such as Blockchain."
COVID in Colombia
The average age of Colombian cacao farmers is quite high, the areas they live and work are remote, and access to quality healthcare is difficult. Therefore, they have taken a very cautious approach to the COVID-19 crisis and have isolated themselves completely.
However, this has made it difficult for them to sell their product, as they lack the necessary technology, and access to market and finance etc. Sergio explained: "Organisations have had to stop sending people to help educate the farmers. All this is making the problem even more magnified. How do you mobilise economic incentives for someone that doesn't even have a smartphone or a bank account?"
The farmers need to do what they must to survive, so returning to the more lucrative world of the cocaine industry in these challenging times is, unfortunately, tempting for many. "However, there is hope," Sergio stressed. "We have so much support and we have worked so hard for peace in Colombia that we cannot give up so easily. We must remain patient and persistent and see what this new year will bring."
Looking at the situation from a broader perspective a consortium has been set up called the Cocoa, Forests and Peace Initiative to create a zero-deforestation cocoa sector. This is a collaboration that was signed by the Prince of Wales, the World Cacao Foundation, the Ivory Coast, Ghana, and many other cocoa producing countries. However, the first country to implement this programme was Colombia, demonstrating the pioneering approach the country is taking in terms of transitioning from illegal crops.
When we first spoke, Choco4Peace had agreements in place with seven cacao organisations in four post-conflict regions within Colombia. It now has an agreement with the Colombian Cacao Federation (Fedecacao), which is the umbrella organisation that covers all the cocoa producers in Colombia - representing approximately 65,000 cacao farmers.
The changing zeitgeist
COVID-19, however, is not the only factor bringing about change within the modern world. Matt added that Choco4Peace recently attended SOCAP (Social Capital Markets) - one of the leading conferences in the world on impact investment. The underlying theme of many conversations at the show was how we can use our vast resources more effectively to bring balance to the inequality that we see in income and quality of life in certain areas of the world.
"I genuinely think there is an awakening happening in the financial sector," he added. "It's a sector that has a lot of institutional inertia. It's full of the old guard that know how money works and want to see things done a certain way. However, there's a new generation of young people that are watching the world fall apart around them, who are saying that this is no longer good enough, which is promising.
"When we spoke in 2019, we had dreams of scale, now I think we have a pathway to scale. We have been working hard to strengthen our relationship with various government ministries and there is strong interest in seeing a transformation. And of course, this is the doorway to other commodities in other geographies as well."